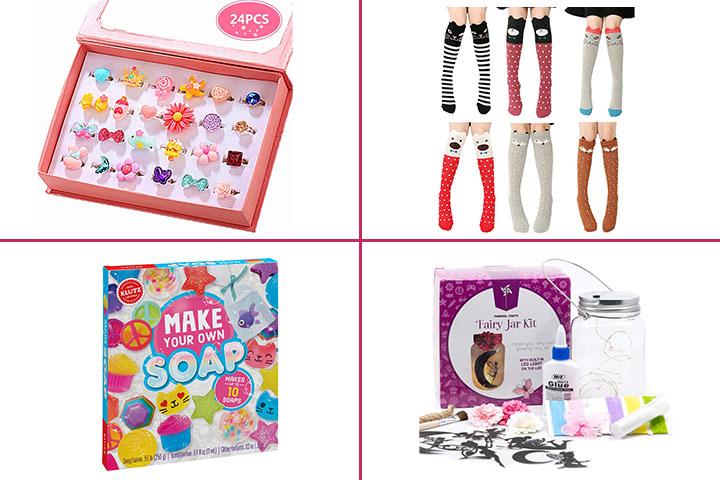 When girls turn ten, they become more independent and sometimes even think like grown-ups. Similarly, their choices take a change due to several factors, including peer pressure. As a parent or relative, it might be challenging for you to figure out a decent gift that is not too childish yet safe and easy to use for a ten-year-old girl. To help you overcome this hurdle, here is a list of 19 best gifts that you can consider buying for your ten-year-old girl.
19 Best Gifts For A 10-Year-Old Girls
1. Sterling Silver Musical Note Pendant Necklace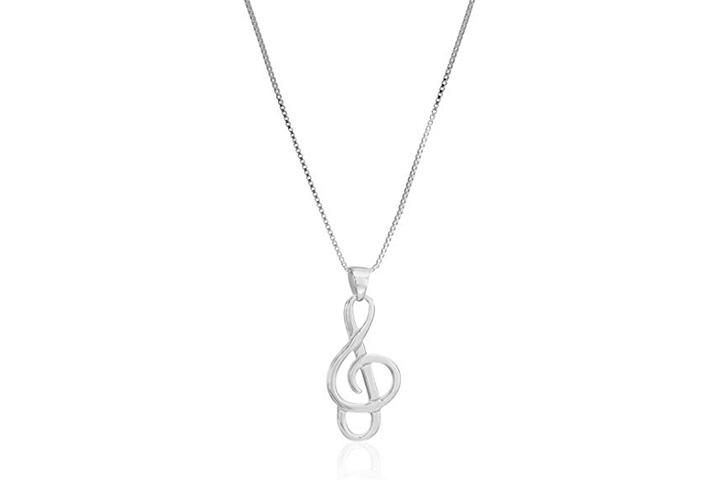 While growing up, most girls develop an interest in wearing jewelry. To satisfy your girl's desire to wear jewelry at a young age, gift her this musical pendant necklace. The necklace is adorned with precious metal and has gone through multiple quality checks. It is both elegant and durable.
Features
This necklace features a treble clef icon.
It consists of a block-chain with a silver ring clasp.
This necklace is crafted in sterling silver.
The treble clef icon is engraved with a message that reads: "Sing a song that is yourself".
2. Spotted Zebra Unisex 3-Piece Snug-Fit Cotton Pajama Set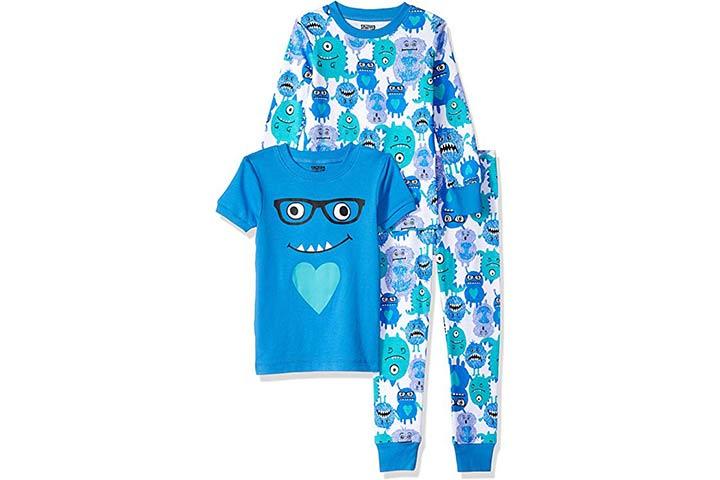 This pajama set features bright colors and bold graphics, making it ideal sleepwear or casual wear for young girls. Made with cotton, this pajama set is comfortable and looks pretty.
Features
It is available in seven different patterns.
It is made of 100% cotton.
This snug-fitting clothing is safe for children.
This pajama set can be easily washed in a washing machine.
3. Niskite Karaoke Microphone For Kids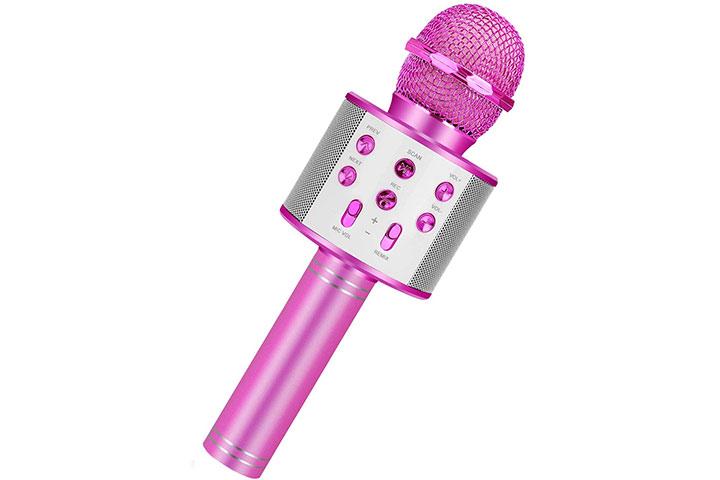 If your girl loves to sing, gift her something that promotes her singing talent. It is a 3-in-1 gift set that has a music player, a music recorder, and a karaoke microphone. The vibrant design of this microphone makes it look unique and attractive.
Features
This mic is made from high-quality, durable materials.
It features a built-in battery that can be charged with a USB cable.
It also features two stereo speakers with a noise reduction chip and a three-layer high-density filter.
This mic supports both Bluetooth and standard audio cable.
It is compatible with Android, iPhone, iPad, iOS, and all smartphones.
4. ThinkFun Gravity Maze Marble Run Logic Game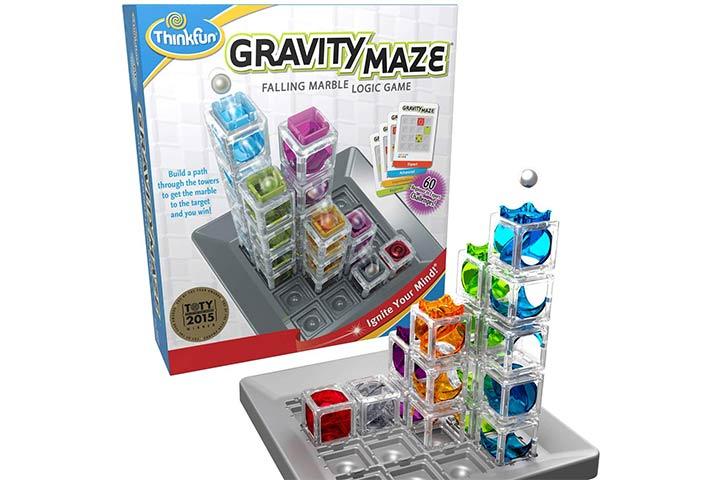 If your girl loves puzzle games, then this falling marble logic game is ideal for her. It offers multiple challenges and tasks to solve and helps in brain development.
Features
This puzzle toy helps promote planning and spatial reasoning skills.
This set is a combination of logic games, marble run, and STEM toys.
It consists of a game grid, a target piece, nine towers, and three marbles.
It offers 60 challenging puzzles ranging from beginner to advanced levels.
This game is easy to learn and also comes with an in-depth instruction manual.
5. CISMARK Cartoon Animal Cotton Knee High Sock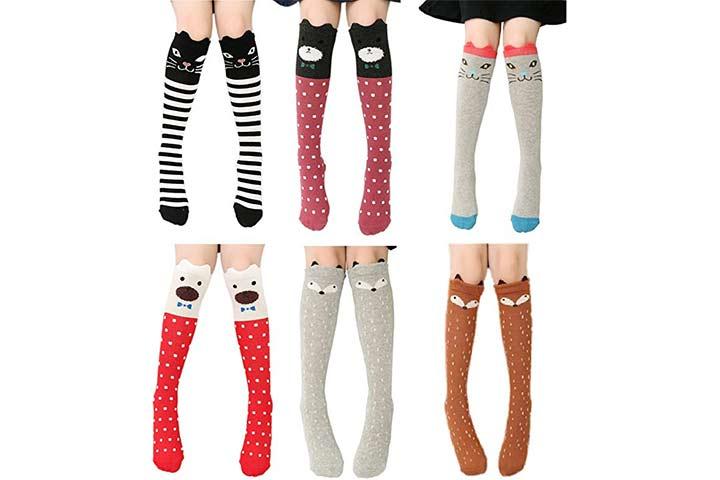 If you want to gift your princess something this winter, why not gift her some durable, warm, and comfortable high-knee pairs of socks? These CISMARK socks come in unique, cute designs, making them the ideal gifts for ten-year-old girls.
Features
Each package consists of six pairs of socks in different designs.
These socks feature cute cartoon prints, different for each pair.
These socks are made of 85% cotton and 15% spandex, making them soft, breathable, and stretchable.
The socks and can be worn either over the calf or the knee, depending upon the height of the girl.
6. Doctor Unicorn Soft Unicorn Hooded Bathrobe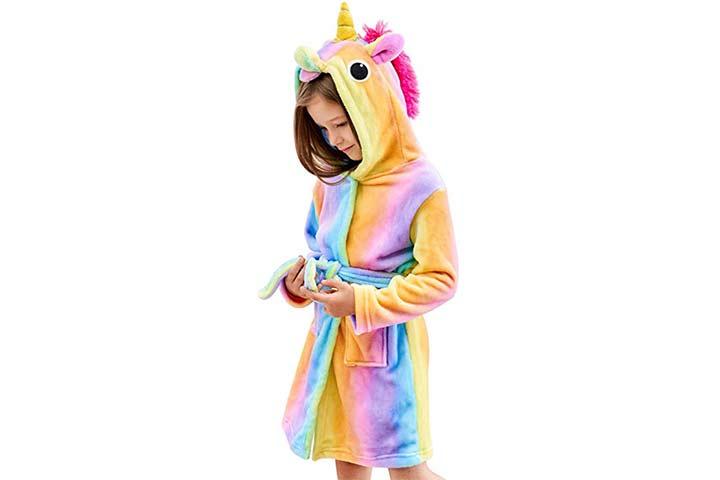 Bathrobes are clothing essentials for girls, especially when they are growing up. White bathrobes are passé—little girls deserve unique, colorful bathrobes. This soft hooded bathrobe makes a good gift idea for ten-year-old girls.
Features
This lovely unicorn-style bathrobe is made of premium-quality polyester and is suitable for all skin types.
It is available in 15 different designs and color combinations.
This bathrobe will give your girl a super-cute look.
7. Segorts Sequin Mermaid Drawstring Bag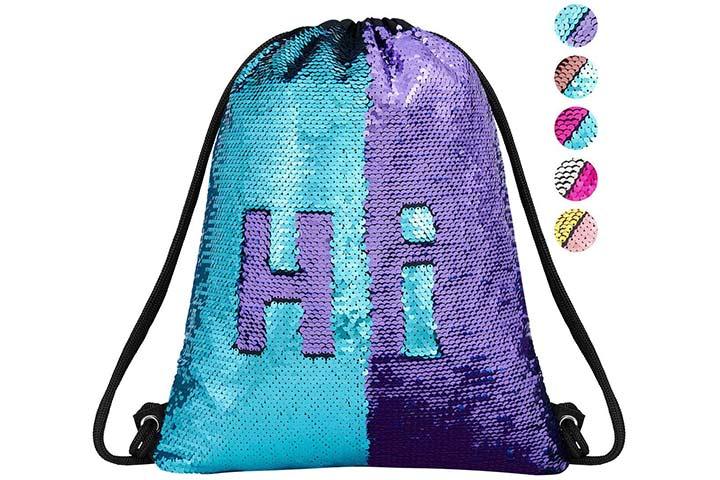 The glittery design makes it suitable for party-like occasions as well as normal day-to-day use. And what's more, it is available in so many color options that you will undoubtedly find the ideal pick.
Features
This bag has a stunning glittery design to catch all the eyes nearby.
It has a decent capacity to carry all the necessary items, including books.
It comes with an internal zipped pocket.
This bag is lightweight and foldable, making it easy to carry.
It is made of high-quality sequin and soft polyester and works as an exciting replacement for plastic bags.
It is available in 22 unique and colorful designs.
8. Miss Pink Stainless Steel Expandable Bangle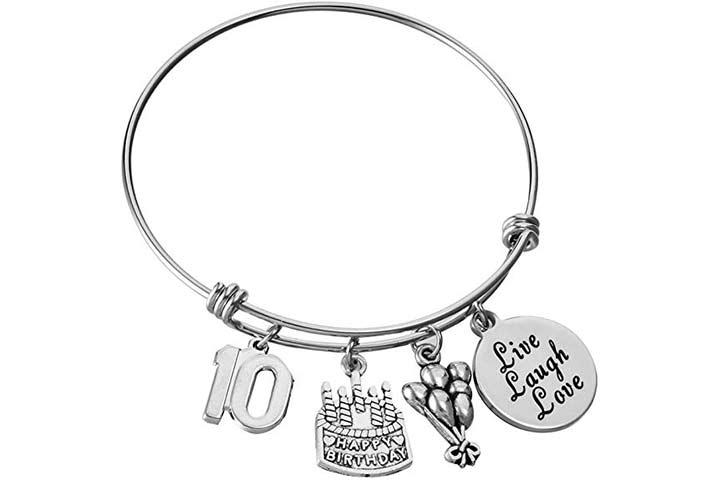 This expandable stainless steel bangle is an ideal gift idea for gratifying ten-year-old girls who love jewelry. This eco-friendly bangle is safe for your girl's skin. Its sleek and elegant design can make your girl stand out in the crowd.
Features
This expandable bangle is made of stainless steel and has a high-quality polished finish.
The bangle features lovely charms, making it an appropriate gift option for girls turning ten.
The charms on the bangle are made from eco-friendly zinc alloy.
9. PROGRACE Children Kids Camera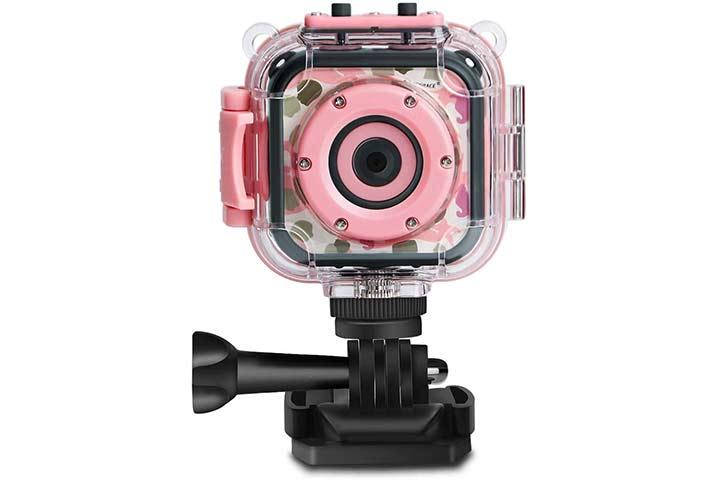 This starter camera with basic features is ideal for kids who are passionate about photography. All primary functions and the cute design make this camera an ideal gift. The camera is also easy-to-use and has a simple user interface.
Features
This 5MP camera features a 1.77-inch LCD screen.
It features high-end specs like CMOS image sensor, built-in photo frames, 4x zoom, 1080p recording, face recognition, brightness adjustment, and much more.
This camera is waterproof and suitable for use while swimming and surfing.
It includes a long-lasting rechargeable 3.7V rechargeable lithium battery.
10. Educational Insights Nancy B's Science Club Microscope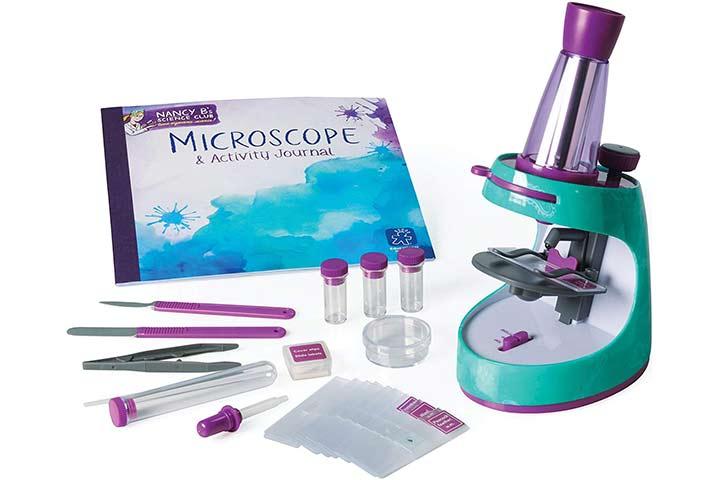 If your girl loves science, then make sure you nurture that love with the right gift. This microscope comes with an activity journal that guides users about collecting specimens and get amazing views.
Features
This microscope offers magnification up to 400x.
This two-in-one microscope has both light and dissecting capabilities.
It also comes with a 22-page journal.
It comes with all the necessary accessories such as a rubber eye cup, focusing knob, and a 26-piece toolset.
11. Pinwheel Crafts Fairy Craft Kit For Girls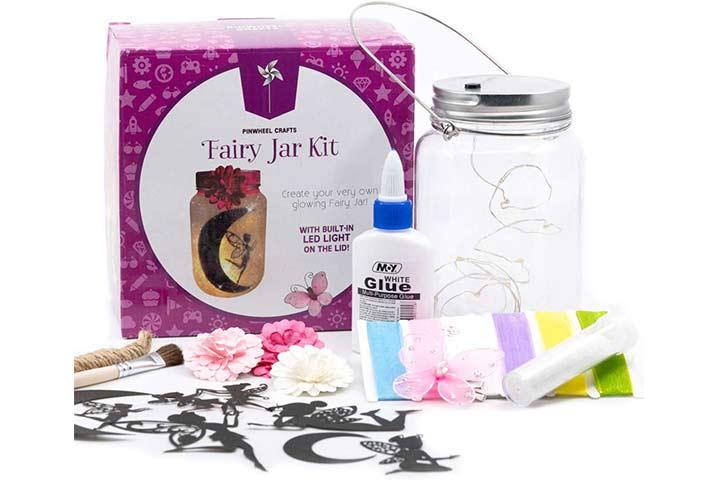 If your girl loves fairies, then this fairy craft kit can be an ideal gift for her to explore the mythical world of fairies. It includes various components, including jars and silhouettes.
Features
This set features a fairy lantern with a light-up LED lid.
The DIY craft kit includes every item that you need, from decorative glitters and flowers to glue, to create the fairy world.
The crafting process becomes simple and easy with the set of instructions that comes along with the kit.
This set could help kids become more creative and innovative.
It is an excellent decoration piece for rooms and halls.
12. I Am Confident, Brave & Beautiful: A Coloring Book for Girls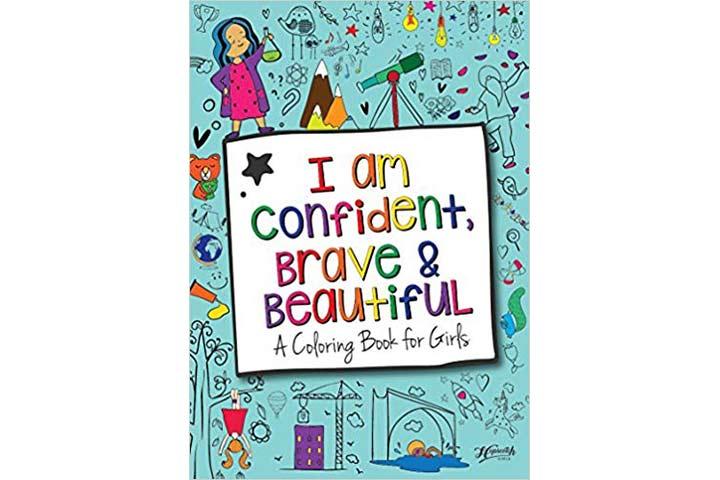 This coloring book is for aspiring artists. It is designed to develop girls' confidence and imagination. Each page is full of attractive illustrations.
Features
It features more than 22 coloring pages.
This paperback book includes black and white drawings.
It offers a positive and educational experience.
It features hundreds of illustrations and is ideal for all aspiring artists.
13. Pinwheel Crafts Kids Origami Paper Folding Kit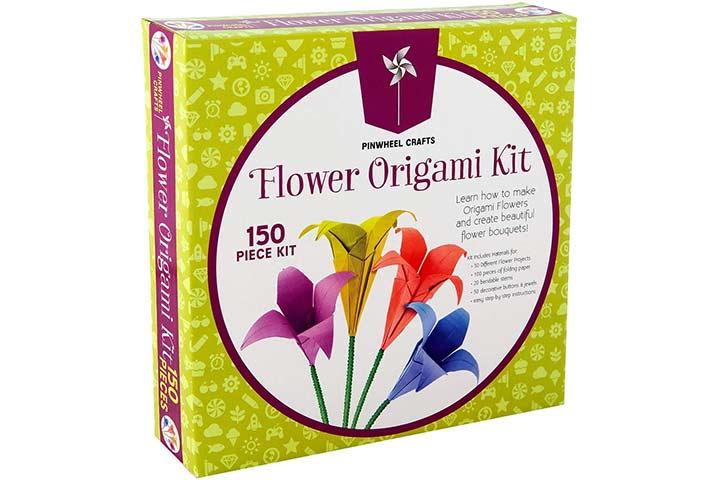 This origami paper folding kid is one of the best gifts that you could give to your creative ten-year-old girl. This kit consists of various flower projects and folding paper pieces, along with a detailed instruction guide.
Features
This set consists of 100 paper pieces, 20 bendable stems, and 30 jewels and buttons to create 30 flower bouquets.
The set also includes a detailed forty-page instruction booklet.
So many design options and possibilities keep the kids occupied for hours.
This origami set is an ideal gift for girls aged between eight and twelve years.
14. Klutz Make Your Own Soap Craft & Science Kit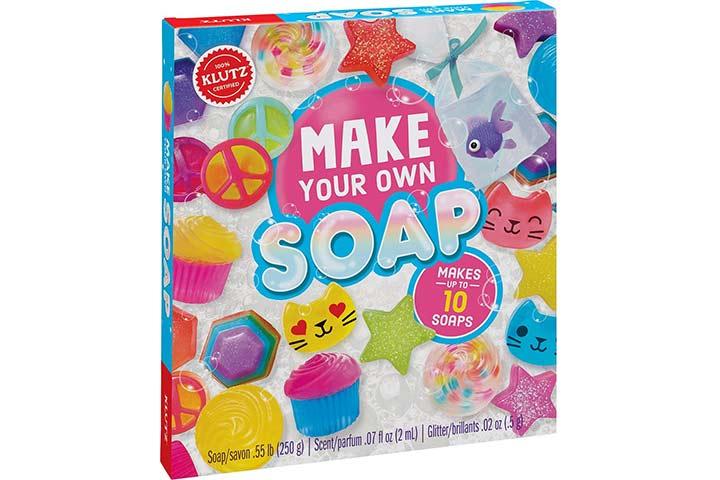 This kit allows your girl to create her very own soap. It comes with various molds and fragrances to make soaps easily and quickly.
Features
Your girl can make up to ten soaps from scratch with this set.
The set includes soap molds, soap stickers, coconut-papaya fragrance, bright colors, and skin-safe glitter.
Your girl can prepare soaps of various shapes like stars and cat faces.
It includes a detailed 36-page instruction guide.
It also includes a sidebar that contains fun facts about chemistry.
15. PinkSheep Little Girl Jewel Rings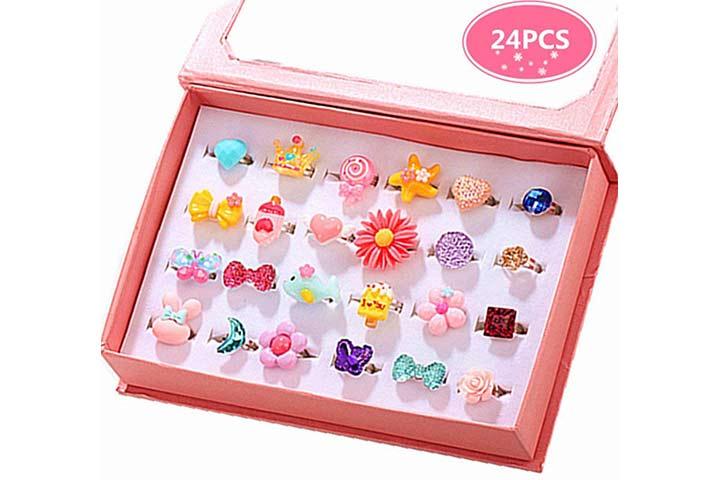 If your ten-year-old girl loves jewelry, then this gift is likely to make her excited. This ring set consists of various rings of different designs that will wow her.
Features
This ring set consists of 24 rings, each with a unique design.
All the rings are adjustable, thus you would not have to worry about the size.
All the rings are made of high-quality, non-toxic acrylic and metal material that is gentle on the skin.
Some of the designs include sunflower, butterfly, and a fake gem.
These rings are ideal for party and role-play setting.
16. Luwint LED Colorful Flashing Finger Lighting Gloves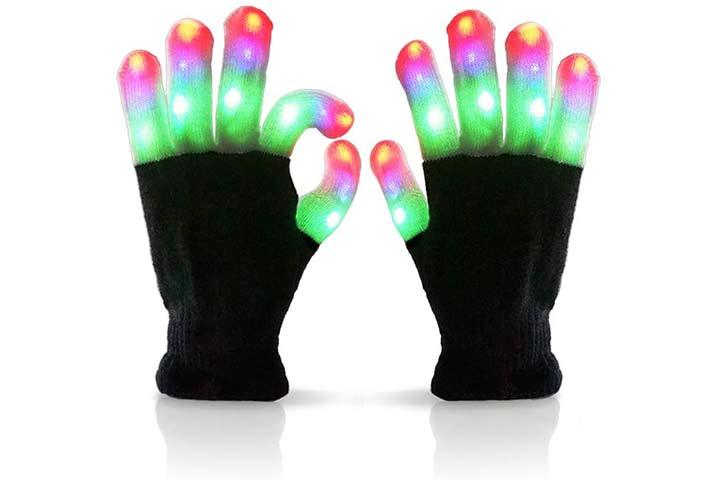 These lightning gloves would surely impress your little girl.  These gloves are unique and will instantly make your ten-year-old girl a center of attraction at parties, events, or even at home.
Features
The LED gloves are available in three colors and six modes.
The gloves are made of high-quality material that offers elasticity and durability.
The glove set comes with eight batteries.
The gloves can be worn by adults, as well.
17. VTech Kidizoom Smartwatch DX2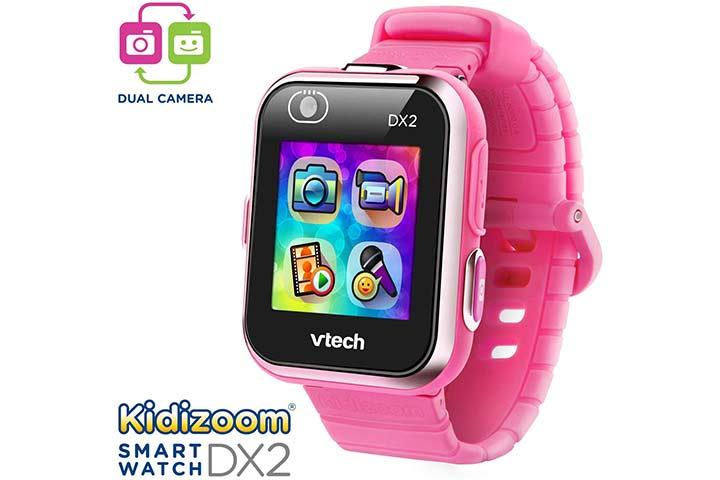 Who does not like wearing watches, especially when the watch is cute, casual, and unique? This pretty and handy girls' watch is one of the best gifts for a ten-year-old girl.
Features
This smartwatch for kids features various games, challenges, and activities.
It features a side camera and a selfie camera, a video recorder, and a pedometer to count your steps. Several functions of the watch feature sound effects.
This touchscreen watch is splash-proof and sweat resistant.
It allows your kid to choose from 55 digital and analog watch faces.
It is available in several colors, namely pink, purple, royal blue and black.
18. Made By Me Create Your Own Bead Pets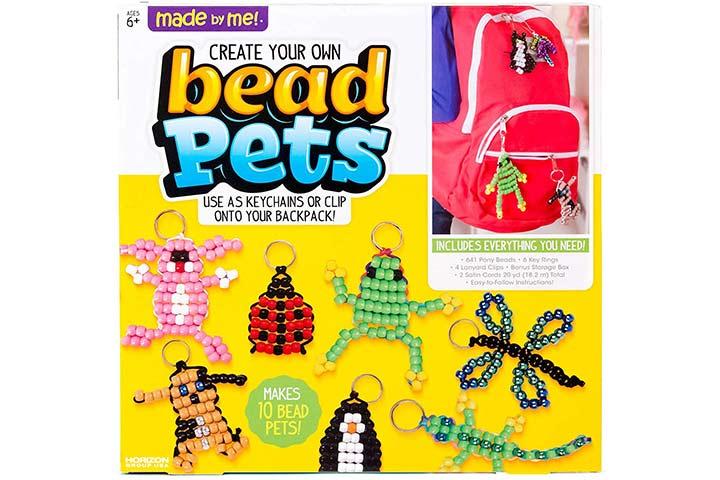 This set consists of colorful beads and cords to create pet toys of your choice. It offers different development options and makes a good gift option for ten-year-old girls.
Features
This set consists of 641 pony beads, six key rings, four lanyard clips, and two satin cords of different colors.
It enables your girl to create, decorate, and personalize various pet shapes.
It also comes with easy-to-follow instructions.
19. Kids Gift Waterproof Watch For Kids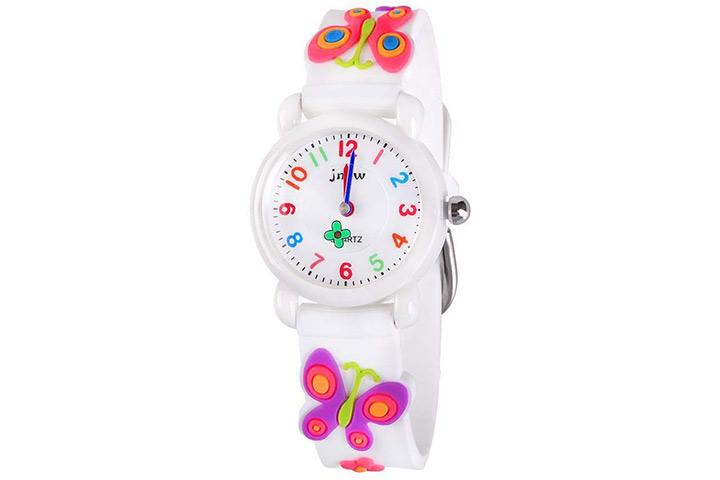 This butterfly-themed watch is one of those cute gifts that ten-year-old girls would love to wear. It is made of high-quality materials and offers several features.
Features
This watch consists of high-quality resin glass.
The watch is water-resistant.
The strap is made of high-quality silicone.
It uses Japanese quartz movement offering precise time-keeping and good battery life.
Buying a gift for a ten-year-old girl may not be easy. However, we hope that some of these suggestions will come in handy when you browse online or go out shopping to get that perfect gift for your princess.
Which of these gift items would you consider buying for your little girl? Let us know your choice in the comments section below. 
Disclaimer: MomJunction may earn a commission when products are purchased through affiliate links given in the article. However, this partnership does not influence the editorial content featuring in our list.
Recommended Articles:
Was this information helpful?
Comments are moderated by MomJunction editorial team to remove any personal, abusive, promotional, provocative or irrelevant observations. We may also remove the hyperlinks within comments.