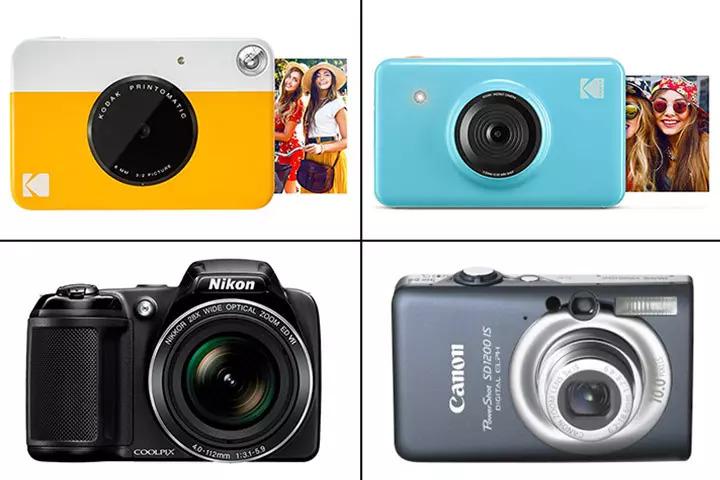 When kids hit their teens, they start cultivating different hobbies. So, why not encourage them to take up photography and show their creative side? Gift them a digital camera to capture those special moments while traveling or hanging around with their buddies.
Purchasing a digital camera for a teenager can be challenging since the camera should be simple yet offer all the necessary features. To help you choose a camera better, MomJunction brings a list of 13 best digital cameras that you could consider buying for a teen.
13 Best Digital Cameras To Buy For Teens
1. Kodak PRINTOMATIC Digital Instant Print Camera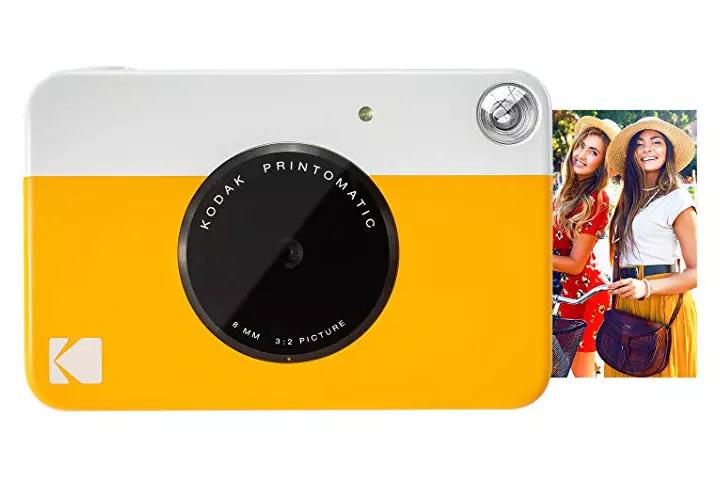 A print camera in 2019? Why not? Forget about computers and printers as this Kodak PRINTOMATIC camera allows you to produce smudge-proof and waterproof pictures on demand. This point, shoot, and digital print camera for teenagers is easy to use and travel-friendly.
Pros
This camera features a 10MP sensor with a wide-angle f/2 lens.
It can print both black and white and colored HD photos.
It features a light sensor for automatic flash.
It comes with a high shutter speed that allows you to shoot and print multiple photos at quick intervals.
For printing, this camera uses Kodak Zink Photo Paper; and therefore, no external ink is needed.
It is available in six attractive colors.
Cons
A few buyers are of the opinion that the shutter button should have been firmer
The resolution and quality of printed photos may seem average for some.
2. AKASO EK7000 Pro 4K Action Camera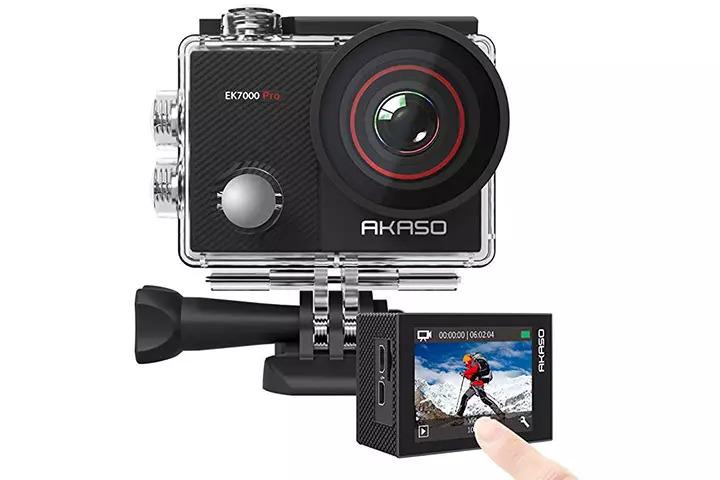 If you are looking for a high-end camera for aspiring photographers, then AKASO EK7000 Pro digital camera ticks all the right boxes. From 4K UHD recording to touch screen and adjustable angle, it offers all the high-end features a wannabe photographer needs. Its unique design complements the powerful features.
Pros
This camera features 16MP resolution for capturing high-quality images and videos.
It supports 4K recording at 25FPS, 2.7K at 30FPS, and 1080p at 60FPS.
It comes with a crystal clear and bright two-inch touch screen with an IPS display.
This camera features in-built electronic image stabilization for stable and non-shaky videos.
It is equipped with a waterproof case and can survive water depths of up to 40m/131ft.
It also comes with adjustable view angles.
Cons
Despite 4K support, the image quality may not be up to the mark in low light.
3. Canon PowerShot ELPH 180 Digital Camera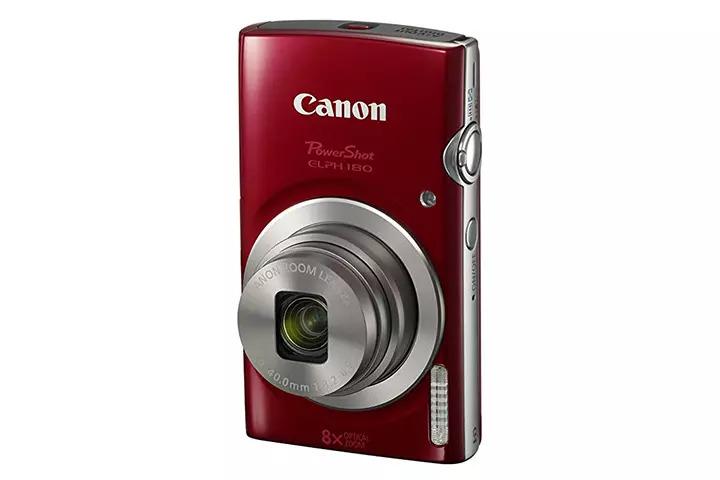 Let your teenager capture their favorite moments with this 20MP Canon PowerShot digital camera. Your teenager can produce some artistic pictures thanks to the camera's high-quality sensors and multiple shooting modes.
Pros
This camera features a 20MP, 1/2.3-inch CCD sensor for better image capture.
It also features an 8x optical zoom for capturing objects at a distance.
This camera comes with a wide shooting range of 28-224mm.
It supports 720p HD video recording at 25FPS.
It also features optical image stabilization and auto-zoom.
Its sleek, classic design makes it look professional and elegant.
Cons
The battery life may come across as average for some users.
4. Canon PowerShot SX530 HS Digital Camera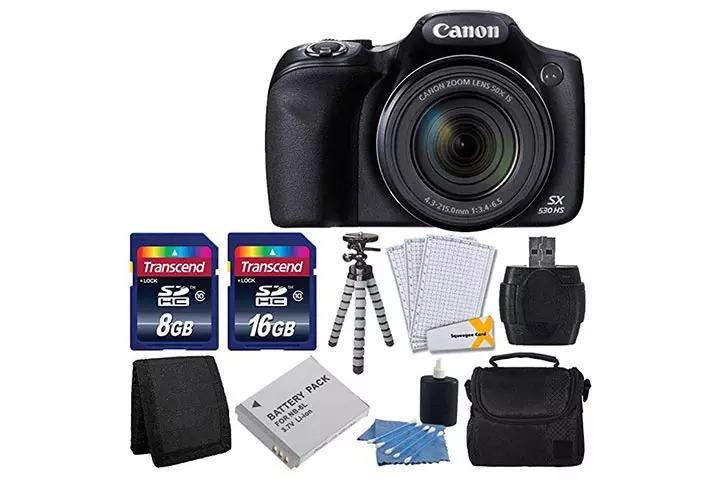 The Canon PowerShot SX530 HS features an expansive zoom lens along with various image sharing capabilities. This point-and-shoot digital camera is versatile and is an ideal companion for your teenager at parties and other memorable occasions. And what's more, it features Bluetooth and Wi-Fi.
Pros
The standout feature of this camera is its 50x optical zoom.
It features a large three-inch LCD screen.
It supports 1080p FHD recording.
This camera comes with a 16MP resolution.
It features a high-sensitivity CMOS sensor and Canon DIGIC 4+ Image Processor for better images.
It also features a dedicated movie button.
Cons
A few buyers complained that the design of the camera is average.
The camera is a little expensive.
5. WONGKUO Elite3 4K Action Camera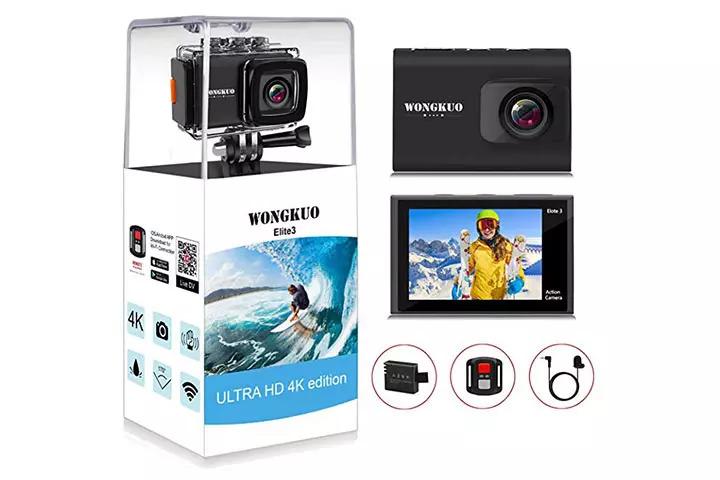 This powerful and affordable digital camera is perfect for teens who love vlogging. Various functions like EIS, burst photo, and time-lapse also make it suitable for teens who want a camera for learning photography.
Pros
This camera has a 20MP resolution.
It offers 4K recording at 30FPS and 1080p recording at 60FPS.
It includes electronic image stabilization (EIS).
This camera comes with a waterproof case and can survive depths up to 30m (98ft).
It supports Wi-Fi and comes with an HDMI port.
It can support an external microphone for enhanced sound input.
This camera features a two-inch LCD screen with a 170-degree wide view angle.
Cons
A few buyers complained that some of the modes don't produce good quality pictures.
It is available in one color only.
6. VTech Kidizoom Duo 5.0 Deluxe Digital Selfie Camera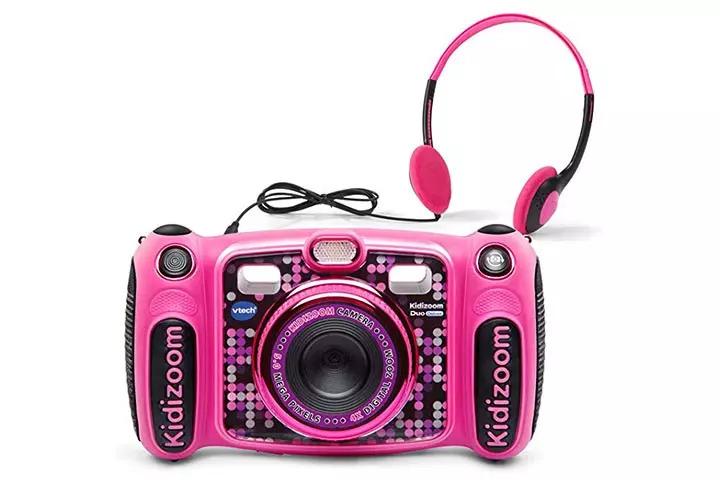 This 5MP deluxe camera is perfect for early teens. It features a 2.4-inch TFT color screen with 4x zoom, auto flash, and switching buttons. The camera also works as an MP3 player and ships with headphones. It comes with 256MB in-built memory and supports MicroSD card up to 32 GB.
Pros
The two-in-one camera and music package makes it an exciting gift item for younger teens.
The screens and controls are kid-friendly, thus making it convenient for teens to understand the camera's functions.
This camera also comes with a few pre-loaded games.
Cons
It is available only in pink and blue with no neutral color option.
Older teens may find the camera's features as basic.
7. Canon PowerShot ELPH 190 IS Digital Camera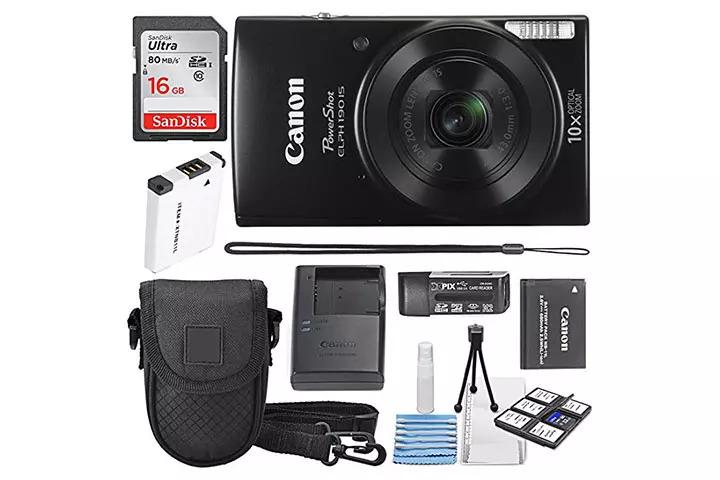 This digital camera for teens features a 20MP CCD sensor, 10x optical zoom, and 720p HD video recording. It also comes with an extra battery along with an AC/DC turbo travel charger to provide you an endless photography experience. It is packed with features for both professional and aspiring photographers.
Pros
The camera interface is easy to use and set up.
The 10x optical zoom allows capturing subjects at a distance.
The kit comes with a 32GB memory card, cleaning kit, and tripod stand.
The optical image stabilization feature helps prevent shaky pictures.
Cons
Connecting the camera to the Wi-Fi could be tedious for teens.
8. AKAMATE Kids Action Camera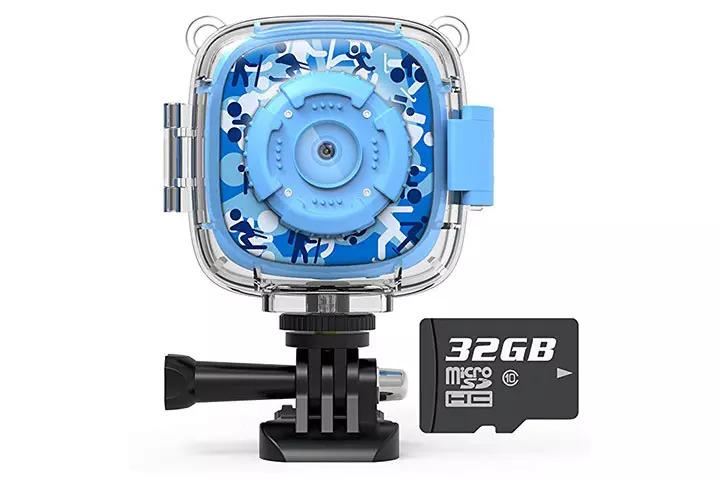 This is an ideal digital camera for teens who are looking for a device that enables them to capture special moments, and also allows them to play games. Apart from built-in games, this camera features a 5MP sensor that offers FHD video recording up to 1080p at 30FPS.
Pros
This camera can be attached to a bicycle, helmet, or skateboard, making it ideal for active kids and teens.
It comes with all the necessary mounting accessories and an SD card.
It is durable and can withstand rough plays and activities.
It can be used 30m underwater.
The camera has a cute design, which can instantly excite young teens and grown-up kids.
Cons
A few buyers complained that the gaming features of this camera are average.
You may have to charge the battery several times a day.
9. APEMAN A79 4K Action Camera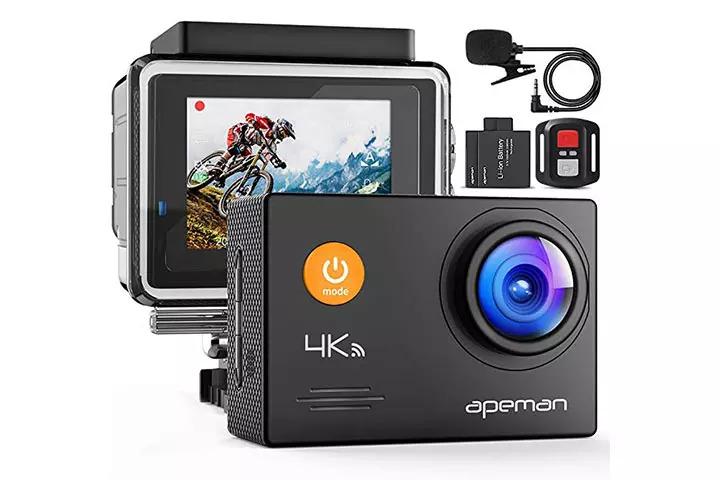 This camera can capture 16MP photos along with 4K 30FPS videos. It also supports an external microphone and comes with other accessories like multiple mounting kits for active kids who love the outdoors.
Pros
This camera supports a microSD card up to 64GB, which is less commonly found in other cameras of a similar price.
It offers 4K resolution videos that capture a lot of detail.
It comes with two 1050mAh batteries.
It supports an external microphone, which allows you to record good-quality audio, especially when outdoors.
It is waterproof up to 40m underwater. It also comes with built-in Wi-Fi.
Cons
The PC mode may be complicated to use for beginners.
10. Canon PowerShot SX420 IS Digital Camera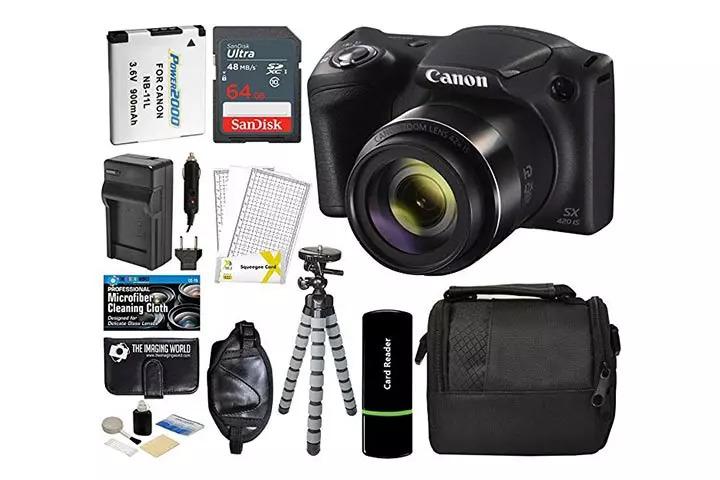 This digital camera is equipped with all the necessary features essential for budding professional photographers. The camera bundle includes useful accessories and shooting modes.
Pros
It features a 20MP sensor with a 42x optical zoom, making it ideal for long-range and wide-angle photography.
It also features a DIGIC 4+ image processor, a three-inch 230k-Dot LCD monitor, and facilitates HD video recording up to 25 FPS.
It comes with a charger and a spare battery.
It features built-in Wi-Fi with NFC.
It offers good low-light photography experience.
Its optical zoom is one of the best in its price range.
Cons
Choosing the right setting to produce the best images could require a lot of practice for beginners.
This camera does not come with a selfie button, which may be missed by some teens.
11. Nikon Coolpix L340 Digital Camera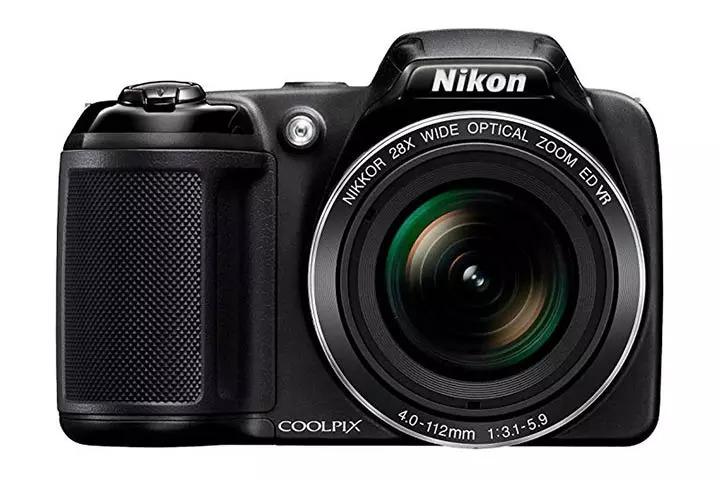 It is one of the best digital cameras for teens who want to take up photography as a profession. It features a 20MP camera with 28x optical zoom and facilitates HD 720p video recording. The bundle includes batteries, USB cables, and other necessary accessories.
Pros
The camera is lightweight and easy to carry.
The camera takes high-quality pictures, and the 28x zoom works well at both long and short ranges.
This camera provides near-DSLR level quality at a lesser price.
Cons
Some users did not find the camera suitable for low-light and artificial light photography.
12. Kodak Mini Shot Wireless Instant Digital Camera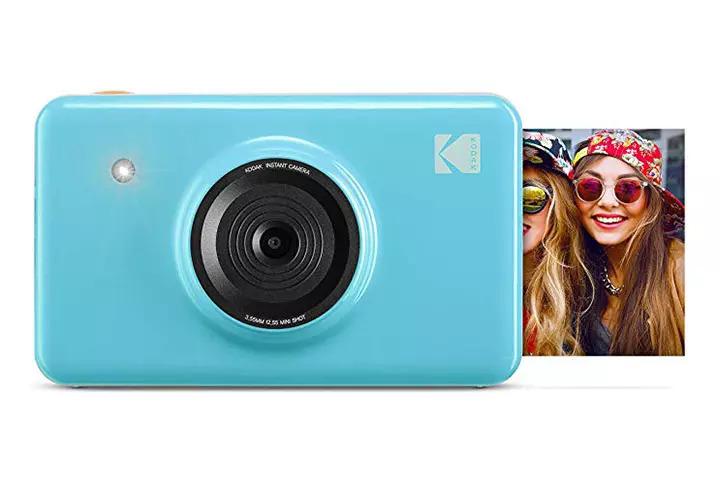 This powerful digital camera from Kodak offers various modes and features, including white balance and gamma correction. It makes it a good pick for teens who want a camera for more than just clicking selfies.
Pros
The camera offers 10MP resolution, auto-focus, and 1.7-inch viewfinder.
The camera is thin and compact, making it very easy and convenient to carry.
It comes with a built-in printer feature that offers great convenience.
It is available in six attractive colors, making it ideal for teens.
The print quality of the images is good.
It features Bluetooth, and is compatible with iOS and Android devices.
Cons
The print quality may gradually decline over time.
13. Canon PowerShot SD1200IS Digital Camera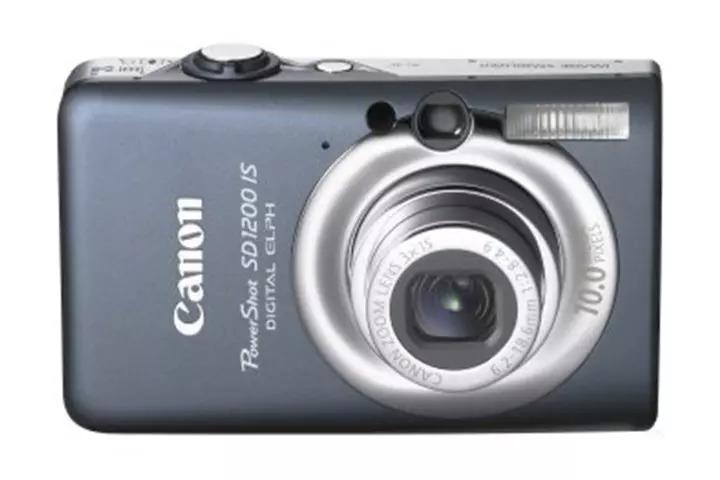 The Canon PowerShot SD1200IS digital camera for teens features a 10MP sensor with a 2.5-inch PureColor LCD screen and 3x optical zoom. It also features DIGIC 4 Image Processor, along with a face detection self-timer. This camera is compatible with SD/SDHC, MMC/MMC Plus/HC, and MMC Plus cards.
Pros
This model offers faster and cleaner shots compared to its previous versions.
It is compact, curvy, stylish, and easy to carry.
It comes with multiple special scene modes.
Cons
It does not offer HD video recording.
Picking the right camera for a teen can be complicated since you are spoiled with choices. However, you can make the selection process easy by determining the purpose of the camera, budget, and features your teen expects from it. We hope you find your right camera in our list of best cameras for teens.
Which of these have you added to your cart? Let us know in the comments section below.
Disclaimer: MomJunction may earn a commission when products are purchased through affiliate links given in the article. However, this partnership does not influence the editorial content featuring in our list.
Recomendded Articles:
Was this information helpful?
Comments are moderated by MomJunction editorial team to remove any personal, abusive, promotional, provocative or irrelevant observations. We may also remove the hyperlinks within comments.