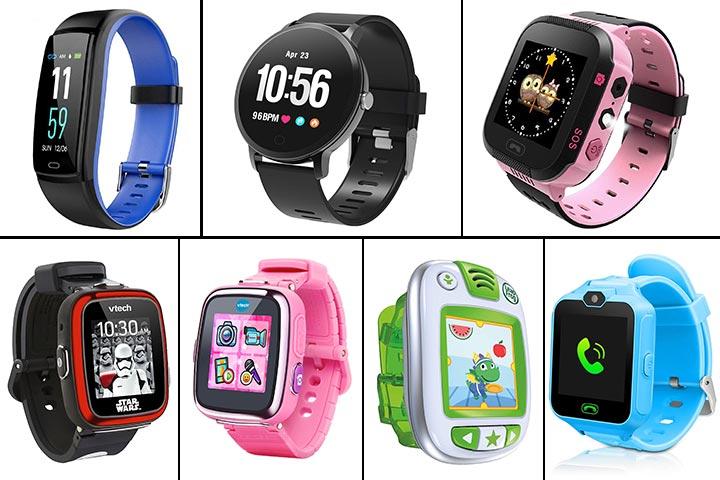 Children are as trendy and stylish as adults, if not more. They love imitating adults and acquiring accessories that they see the parents and others wear. One such accessory that today's kids want is a smartwatch.
The useful features of these digital watches make them a cool option for children and a practical choice for the parents. There are plenty of options to choose from should you go shopping smartwatches for kids. This can make zeroing-in on the right one for your kid a challenge.
11 Best Smartwatches For Kids
1. VTech Star Wars First Order Stormtrooper Smartwatch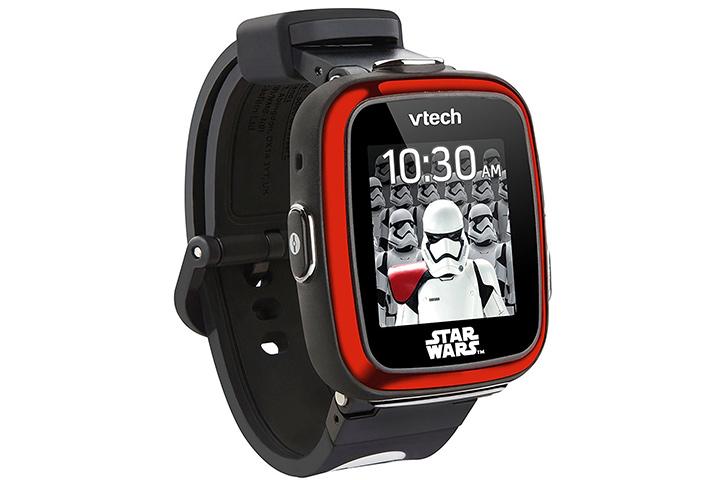 It is an excellent smartwatch for children aged 8-10 years. It includes star war themed photo effects that the children can use to take creative pictures and videos. It comes with a voice recorder that also has a voice changing feature. Other features include an alarm, timer, and stopwatch.
Pros:
Use the touch screen feature to activate the three mini-activities that include blasting asteroids, escaping Stormtroopers, and racing with BB-8
The motion sensor can be used to trigger sound effects
Features a calculator for simple addition, subtraction, division, and multiplication
Digital and analog clock to help children learn the time
Cons:
No micro SD port for extra storage
The alarm can be set only for a specific time and not the date
2. LeapFrog LeapBand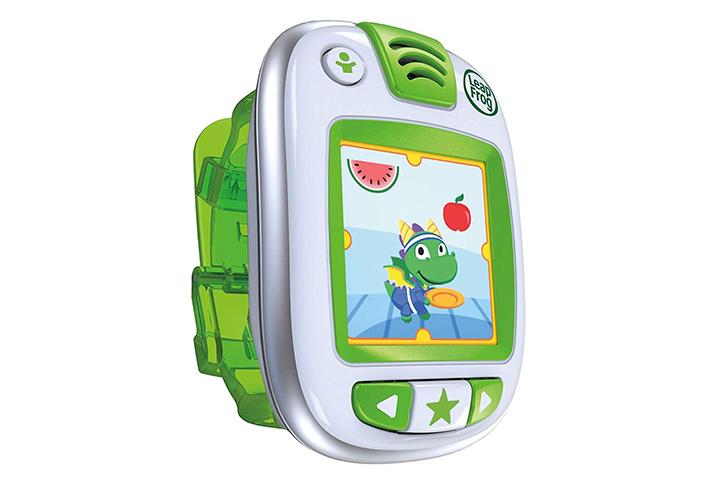 This smartwatch is loaded with challenges that a child will love to take on. It is the first kid's activity tracker with a personalized pet on the band. Ideal for kids between the age of four and seven years, this watch has 50 fun challenges and built-in rewards to motivate kids and encourage healthy habits.
Pros:
Compatible with iOS (6.0 and higher), Android (4.03 or higher), and LeapFrog wireless tablets
It has parental controls
Water-resistant watch
High-resolution screen
The band can be adjusted to fit the child's wrist
Available in three colors
Cons:
Battery life is not great
May not be interesting for kids above seven years of age
3. VTech Kidizoom Smartwatch DX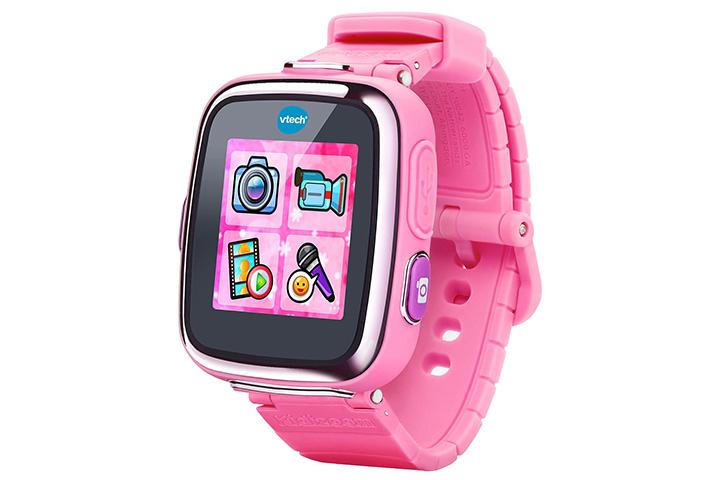 Kidizoom DX is perfect for kids in the age group 4-9 years. It comes with a lot of memory to store pictures and videos. It also has an analog and digital clock display, as well as a calendar and calculator. It has eight in-built games that include action challenges and motion games.
Pros:
Durable and great memory
Splash and sweat proof
Comes with a rechargeable battery and a micro USB cable
Touch screen
Connects to Learning Lodge, the VTech mobile app that you can use to download games and more
Includes an alarm, timer, and stopwatch
Cons:
Short battery life
Doesn't come with an AC plug, which you need to buy separately. Of you can charge the battery by connecting it to a USB port
4. Prograce Kids Smart Game Watch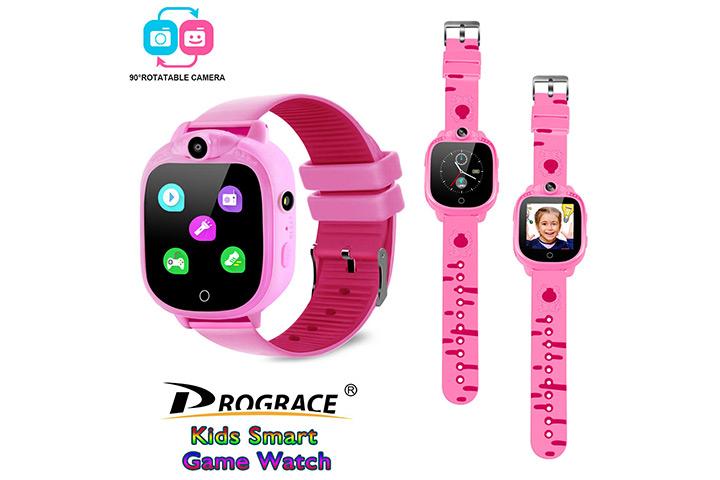 It is a kid-friendly, smart band suitable for ages 3 to 12 years. Flashlight, built-in games, speedometer, and a rotatable 0.3 MP camera are few of its features. It connects to music players and radio through wired or Bluetooth 3.0 earphones.
Pros:
It has a touch screen
90° Rotatable Camera
Enables health monitoring
Comes with a microSD slot
Includes motion sensors for health monitoring
Cons:
Does not come with a microSD card
5. SZBXD Kids Smartwatch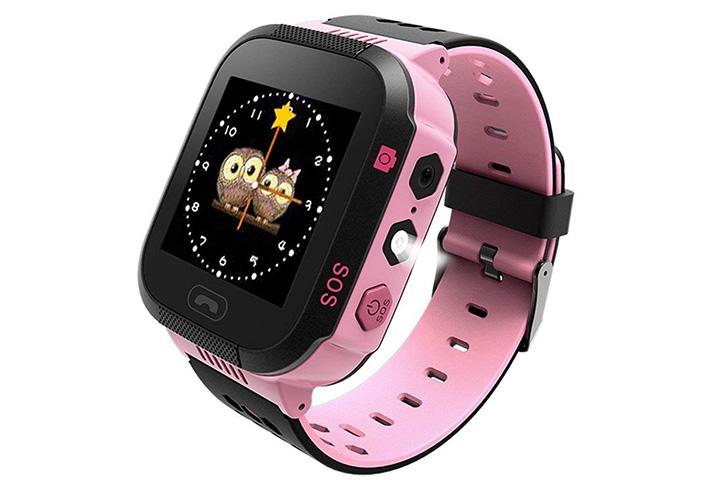 It is a multi-functional smartwatch for children with features such as GPS and LBS positioning, SOS emergency call, camera, flashlight, voice chat, clock, math games, etc. Like a smartphone, it has a two-way calling feature.
Pros:
Silicon band is very soft
Comfortable to wear
Easy to use
Fits all wrist sizes
Has parental control
Cons:
Does not come with an SD card
6. YIHOO Kids Smart Phone Watch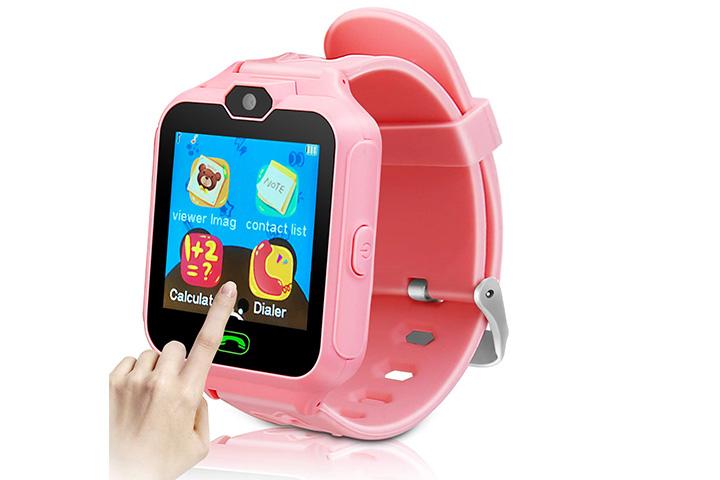 The HD color screen of this smartwatch minimizes the strain on the child's eyes. Its features include two-way calling, built-in high-definition camera and recording, games, etc. It makes an ideal choice for kids as it emits ultra-low radiation. Its rechargeable battery can be charged with a USB cable.
Pros:
High-definition touch screen
Built-in games
Battery standby time 5-7 days
Band is adjustable
Premium grade silicone material is used for the band
Cons:
Does not come with an AC adapter
7. YNCTE Smartwatch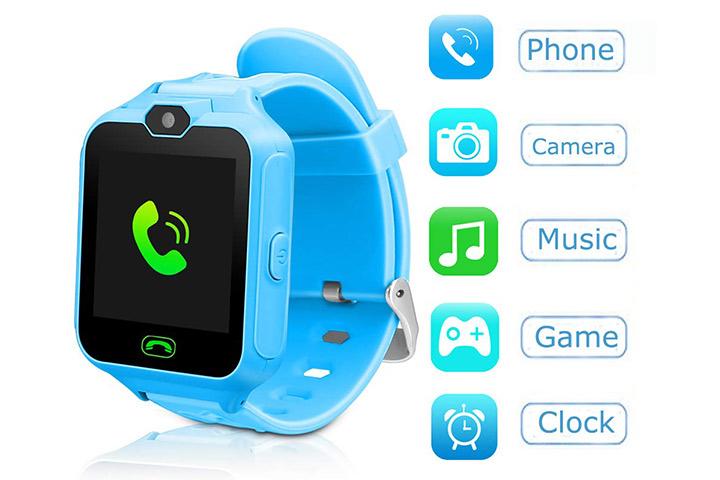 This smartphone is easy to operate and is integrated with multiple functions. Its features include alarm clock, games, camera, calendar, calculator, as well as two-way phone call feature. It comes with a rechargeable battery and a USB cable.
Pros:
Color touchscreen
Battery standby time is 5-7 days
The band is made of high-quality silicone
Enables interaction with kids anytime
Cons:
Does not come with a sim card
8. DUIWOIM Smartwatch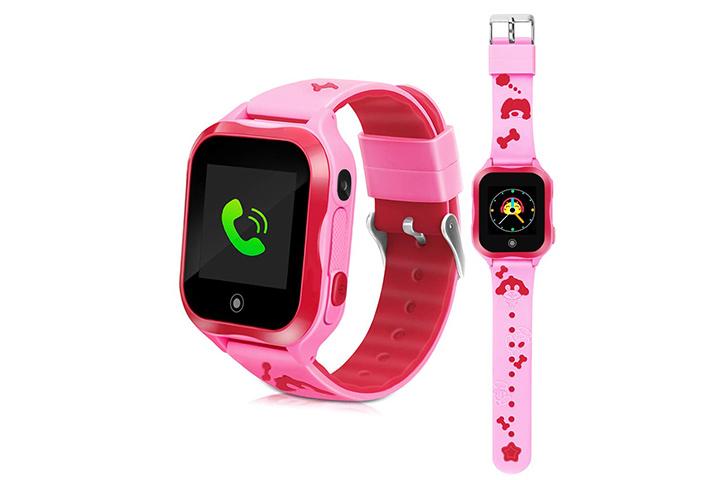 This smartwatch offers effective learning and entertainment for kids. It comes with GPS and SOS features that ensure the child's safety by tracking their location. The other special features include a pedometer, high-resolution camera, and two-way communication functions. It is recommended for children of age 4+.
Pros:
The band is made of high-quality silicone material
It is waterproofed
Two language options are available: English and Chinese
Supports WiFi
High-definition touchscreen that is easy on the eyes
Cons:
Does not come with an AC adapter for charging
9. Aidiado smartwatch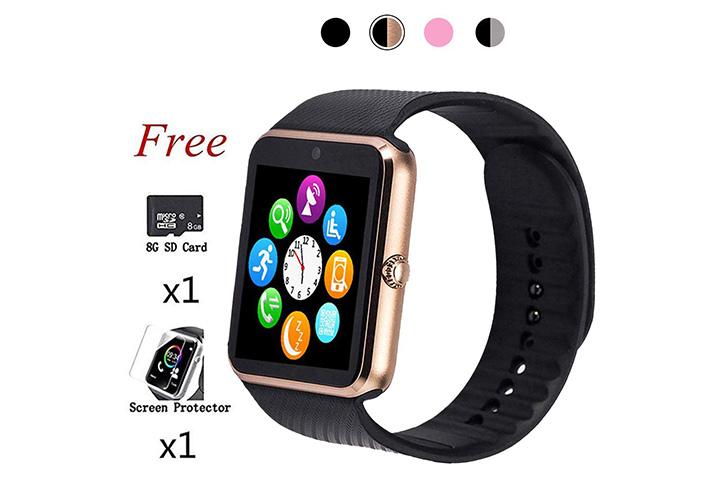 Great design and multiple features make this smartwatch an ideal choice for kids as well as adults too. It works with a 2G SIM card. Its multiple functions include a pedometer, sleep monitoring, image viewer, sound recorder, alarm clock, calendar, calculator, and camera (0.3MP).
Pros:
Compatible with Android and iOS
It is waterproof and easy to use
Facebook, Twitter, WhatsApp, and Browser accessible on this smartwatch
It comes with an SD card and a charger
Cons:
Supports only 2G SIM cards
iPhone supports only partial functions, as the app is not completely compatible with iOS
10. BingoFit Fitness Tracker smartwatch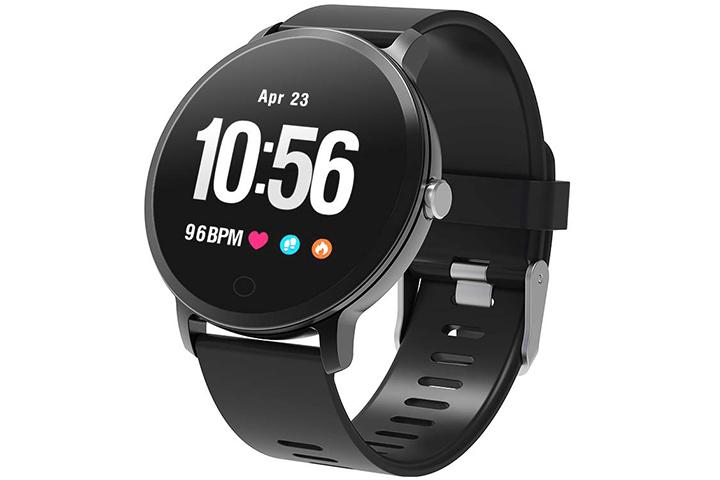 It is a perfect gift for kids or adults and fits wrist sizes from 5.9 to 9.4 inches. Its smart design includes a customized dial face. It is integrated with all-day activity and sleep tracker. This smart band also monitors health efficiently. Other features include weather display, music player, brightness adjustment, clock, alarm, and more.
Pros:
Supports Android 4.4 and iOS 9.0 or above
The box includes a charger
Easy to charge using the USB cable
Resistant to sweat, rain, splashing
High-quality screen with clear display
Six levels of brightness adjustment
Cons:
Not recommended for wearing when swimming
11. Mgaolo smartwatch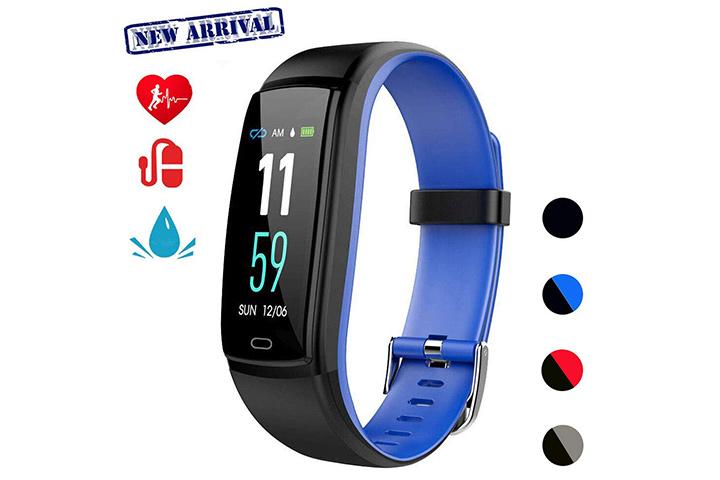 This smartwatch has functions like a sedentary reminder, alarm, anti-theft/lost feature, sleep monitor, pedometer, calorie counter, step counter, camera, and more. It is ideal for adults and kids as well. It can be automatically synced to your smartphone through Bluetooth.
Pros:
Supports Android (4.4 and above), (IOS 8.0 and above), and Bluetooth (4.0 and above)
The smartwatch app supports multiple languages like English, Japanese, Korean, German, Russian, Spanish, Italian, French, Vietnamese, Chinese, and Traditional Chinese.
The battery standby time is 5-7 hours in a single charge of one hour.
Waterproof and dustproof
Easy to use
The quality of the band makes it comfortable for a day-long wear
Cons:
Can be charged only with a USB cable
Features To Look For In A Kid's Smartwatch
A smartwatch is not just about aesthetics or telling the time. Smartwatches have plenty of interesting and practical features that enhance their functionality and reliability. Features you must look for in a children's smartwatch include:
Compatibility: The compatibility of a smartwatch with a smartphone is an important feature to look for. The watch should work with both Android and iOS operating systems and have a fully functional app on Google Play and Apple stores.
Design: It should be ergonomically designed to fit the child's wrist and stay in place. Also, check what material the strap or band is made of and if it is ideal for all-day wear.
Tracking features: Ensure that the smartwatch is integrated with the GPS tracker and two-way phone call features. This helps to locate your child who is away from home.
Parental control: It is the most important aspect of a smartwatch for kids. It helps in controlling the usage of specific features when the kids are at school. Also, it ensures that they do not misuse the features.
Battery life: Check the charging time and the standby time for the battery. This will let you know how long the watch will be functional after a charge.
With a smartwatch on their wrist, kids can always be in check and parents can stay assured about the safety of their children. Look for features such as two-way calling and GPS that lets you stay in touch with the child at all times. Other features such as a camera, gaming and music will also keep the child entertained and happy with the purchase.
Did you get a smartwatch for your child? What things did you look for while buying it? Share your thoughts with us in the comments section below.
Disclaimer: MomJunction may earn a commission when products are purchased through affiliate links given in the article. However, this partnership does not influence the editorial content featuring in our list.
Was this information helpful?
Comments are moderated by MomJunction editorial team to remove any personal, abusive, promotional, provocative or irrelevant observations. We may also remove the hyperlinks within comments.