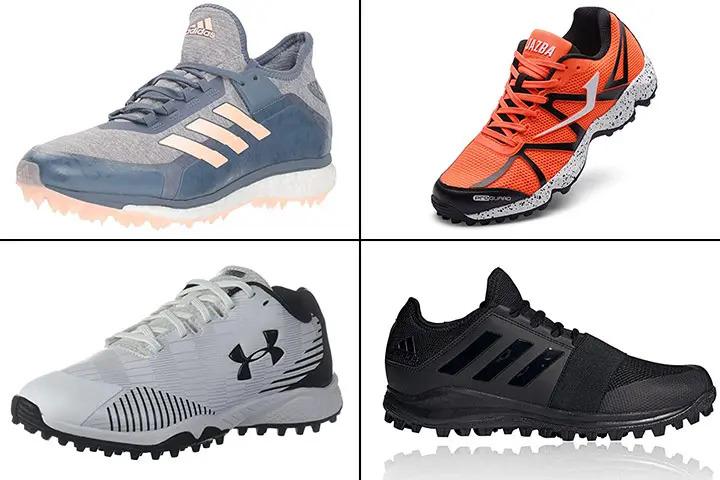 Hockey is a physically challenging sport. To play this sport well, you should be equipped with professional hockey shoes. The primary function of these shoes is to protect the feet of players from injury.
Hockey shoes come with cleats that help the feet get a good grip on the field and eliminate the chances of slipping or twisting an ankle. The toe cap and padded midsoles ensure that your feet are safe from the impact of the ball, while the water-resistant uppers protect the feet from getting wet. These shoes also feature padded ankle collars to protect the feet from sprains.
Keeping in mind all these important features, MomJunction has rounded up a list of 10 best field hockey shoes for women.
10 Best Field Hockey Shoes For Women
1. Adidas Originals Women's Fabela X Hockey Shoe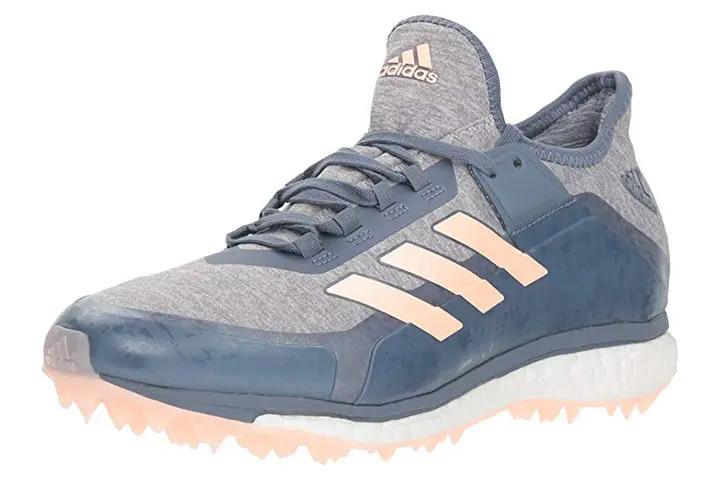 The Fabela X Hockey Shoe comes with excellent cushioning in the midsole for a high-energy return. The upper of the hockey shoes is equipped with synthetic layers that protect the feet from water and take on any impact from the ball. The stretchable inner sock gives you a snug fit so you can perform comfortably. Its molded TPU outsole comes with lugs to provide you with unmatched on-field grip.
2. Jazba Rattler Field Hockey Shoe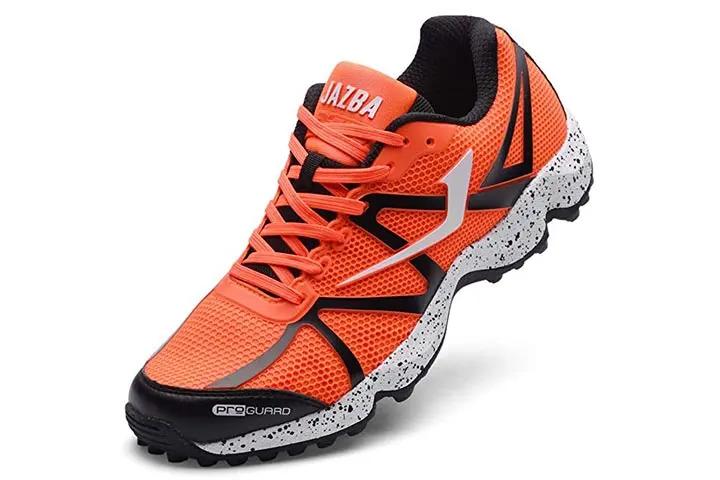 Built specially to dominate the hockey field, this pair of shoes by Jazba comes with a 3D-crafted cage-structured upper that makes it super flexible. Its water-resistant cage and patented PROGUARD toecap protect the feet when playing on a wet turf. The soft cushion in the midsole easily absorbs landing impact. The gel foam insole has hole vents that enable proper air circulation for comfortable wear. The outsole features high-abrasion rubber studs to give you super traction on the field. The shoe is available in different colors.
3. Under Armour Women's Lax Finisher Turf Lacrosse Shoe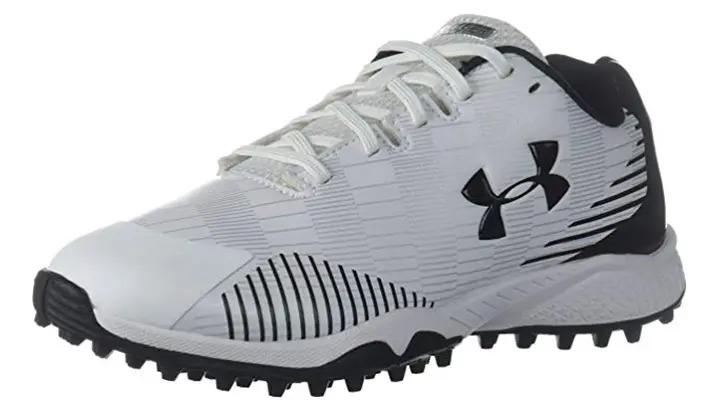 This pair of Lax Finisher Turf Lacrosse Shoes has a lightweight synthetic upper for maximized performance. The die-cut EVA midsole is designed to take on cleat pressure and provide superior underfoot comfort. The rubber outsole comes with mini-lugs to give good grip and traction on all kinds of pitches. The molded ankle collar padding is ergonomically designed to provide you a snug fit and extra support and protection.
4. Adidas Divox 1.9S Women's Field Hockey Turf Shoes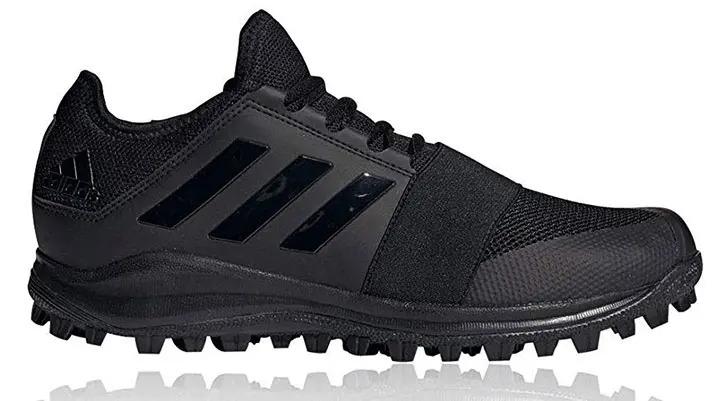 Created to offer you a competitive edge over opponents, this pair of turf shoes by Adidas comes with synthetic upper and an inner bootee for best comfort fitting. Foil overlays further protect the legs from water and ball impacts. The lace-up closure allows you to adjust the fitting as per your convenience. The EVA midsole offers proper cushioning, and the toe cap ensures additional protection. The outsole comes with traxion cleats that provide excellent grip on any pitch.
5. Adidas Zone DOX Field Hockey Shoes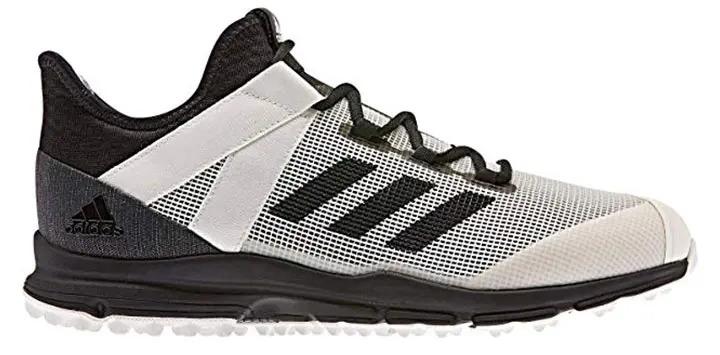 This pair of Adidas Zone Dox field hockey shoes comes with a mesh upper that offers good airflow to keep your feet dry and fresh. The textile bands ensure that your ankle is well-supported, while the TPU toe cap protects your feet from ball impacts. The inner sock gives you a snug fit, while the EVA midsole with cushioning offers maximum comfort. The lug rubber outsole allows firm and stable grip on any kind of field.
6. Jazba Field Hockey Shoes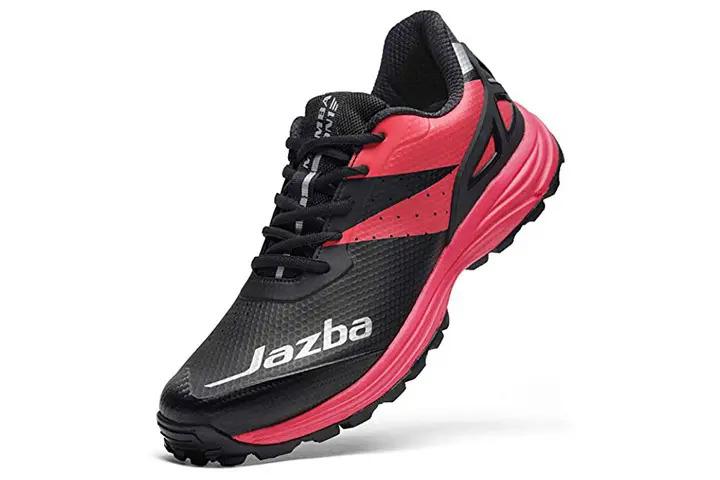 This pair of Jazba hockey shoes boasts of a unibody glove construction and water-resistant upper for maximum agility and swiftness on any turf. Its top layer, made of quick-dry textile bamboo and cotton fiber, helps keep smelly feet at bay. Its gel foam insole provides arch support and cushioning so you can play with ease. The rubber grippers are hard enough to give a firm grip and light enough to facilitate easy maneuvering.
7. Jazba Girls CrossFit Shoes for Hockey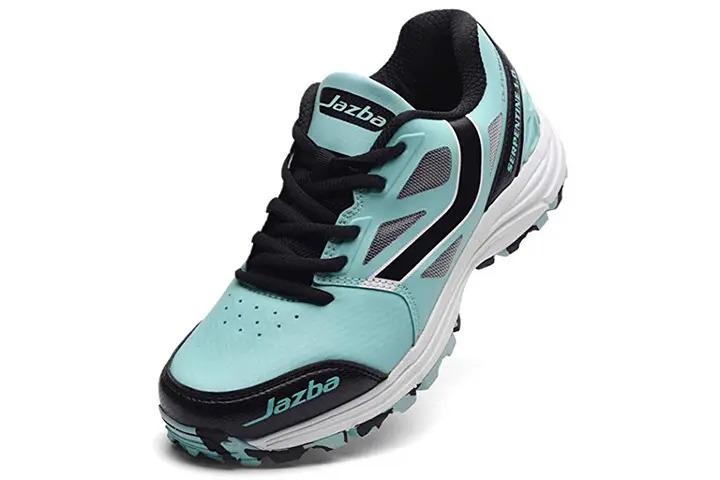 Looking for a pair of hockey shoes that will help you play on various turfs? Then take a look at these CrossFit shoes with lightweight overlays that protect your feet while playing and keep your feet dry and comfortable. The rubber outsole offers a frim grip and traction, so your sudden movements are smooth and unrestricted. Its water-resistant body enables you to play on any turf. The full-length EVA midsole helps absorb landing impact, while its proguard toecap shields the toe from ball hits and injuries.
8. Gryphon Aero G6 Turf Women's Field Hockey Shoes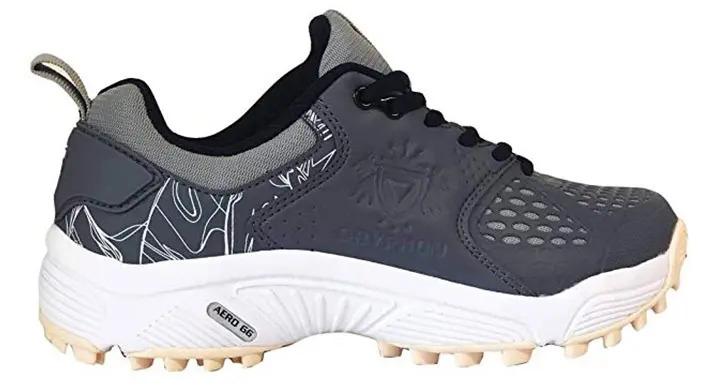 Comfort and stability are the main features of this pair of field hockey shoes. The forefoot flex pro design allows you to break into a sudden sprint and turn and cuts while keeping your stance stable. Its outer sole comes with studs that provide a firm grip so you can move without losing balance. It comes with a padded collar and padded sole to keep your feet safe and protected. Its mesh upper and mesh inlays ensure smooth ventilation, so your feet are dry and comfortable.
9. ASICS Women's Gel-Hockey Neo Field Hockey Shoe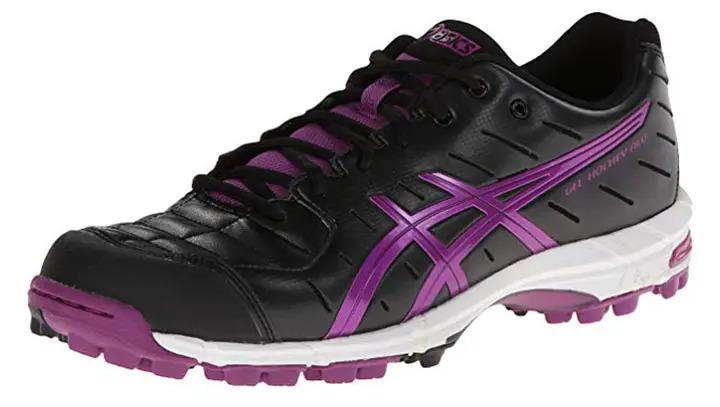 These shoes are designed using the Trusstic System Technology that makes them lightweight without compromising on the integral structure. A dense midsole provides better support and ensures stable movements. Mesh engineering allows ventilation, so your feet feel dry and comfortable even when you wear them for long.
10. ASICS Women's Gel Lethal MP6 Field Hockey Shoe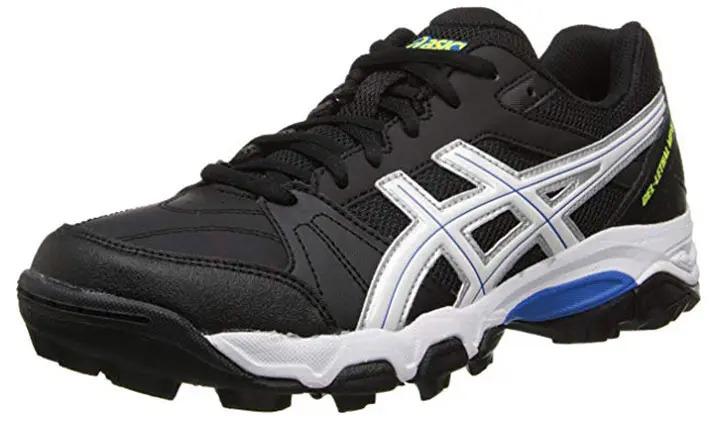 Equipped with a midfoot Trusstic System plate, these field hockey shoes offer comfort and support. They come with a durable synthetic upper and a rubber sole that ensures a good grip on the field. Its synthetic leather and mesh make it light and breathable. The simple-looking black and white shoes are dependable and comfortable.
What Makes A Good Field Hockey Shoe?
Like shoes for any sport, field hockey shoes too are designed for shock absorption, balance, and stability. A good pair of field hockey shoes offer the following features:
Complete protection: Compared to other sports, the chances of leg injury are higher in field hockey because you strike the ball with a hockey stick that can accidentally hurt your opponent. A good pair of hockey shoes comes with a considerable amount of padding to protect your feet from injury.
Grip and traction: Ever seen rubber studs on hockey shoes? These studs enable the player to gain good grip and traction even when playing on wet pitches. Shoes with firm grip enable the player to run and maneuver with ease.
Foot support: To play a good game, it is essential for the player to wear good-fitting shoes. An ideal pair of field hockey shoes provides good internal cushioning and padding. It also gives enough protection to the ankles and keeps the feet dry and comfortable.
A good pair of shoes is an investment into your game, so always ensure you have opted for the best possible field hockey shoes available. Which of these appeals to you? Let us know in the comments section below.
Disclaimer: MomJunction may earn a commission when products are purchased through affiliate links given in the article. However, this partnership does not influence the editorial content featuring in our list. 
Was this information helpful?
Comments are moderated by MomJunction editorial team to remove any personal, abusive, promotional, provocative or irrelevant observations. We may also remove the hyperlinks within comments.