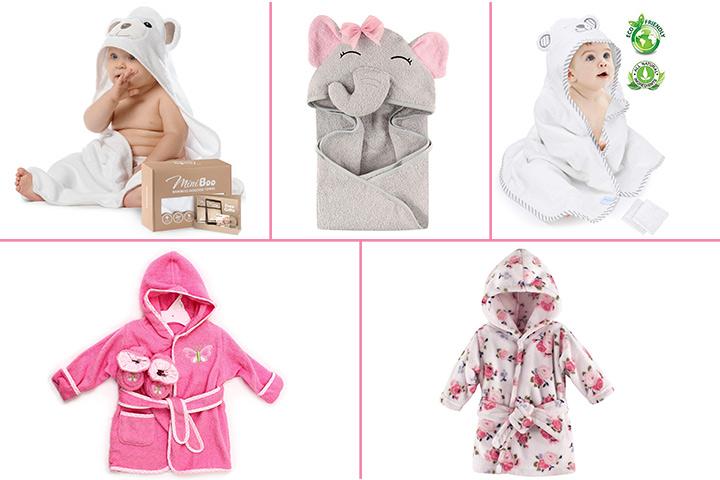 Shopping for baby bathrobes and towels is fun, especially when there are such varied and cool options available. However, design is not the only deciding factor in this case. The towel or robe you buy has to be soft, comfortable, and safe for your baby.
MomJunction has prepared a list of 13 best baby bathrobes and towels to make your search easy.
13 Best Baby Bathrobes And Towels
1. Premium Ultra Soft Organic Bamboo Baby Hooded Towel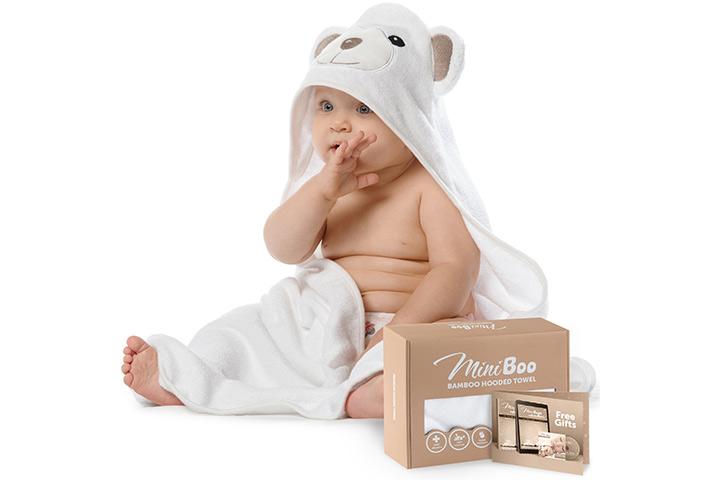 Made of soft bamboo fiber, this towel by Miniboo is hypoallergenic and is free  of harmful substances. The blend of cotton and bamboo fiber is extra smooth, highly absorbent, and durable. It comes with a cute bear hood that will help dry your munchkin's head.
Pros
Resistant to odor, mold, and bacteria
Does not fade even after repeated washing
Comes with an embroidered hood
Keeps the baby warm after bath
Makes an ideal baby shower gift
Unisex design
Cons
Towel may not be ultra-soft as claimed
2. Hudson Baby Unisex Baby Plush Animal Face Robe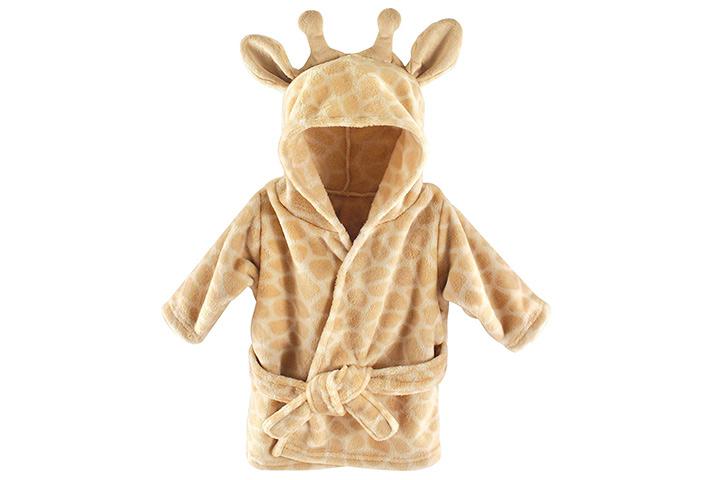 Made of polyester, this plush animal design baby robe is the perfect option for little ones who love to play in the water. Its fleece fabric keeps the baby warm and comfortable after a bath or pool-time fun.
Pros
Material is soft and gentle on the baby's delicate skin
Suitable for poolside parties and other water events
Can be washed in a machine
Available in various adorable animal designs
Cons
Robe tends to shrink after a few washes
Material may attract lint
3. Organic Bamboo Hooded Baby Towel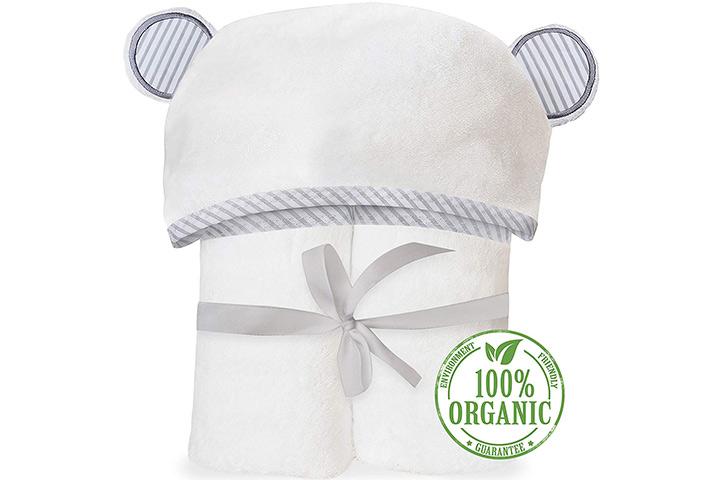 Looking for an eco-friendly towel for your little angel? This bamboo-hooded towel by San Francisco Baby might interest you. Made of 100% organic bamboo, this towel is soft on the skin and adorable to look at. It comes with two tiny animal ears that make your darling look even cuter.
Pros
Easy to wash in a machine
Material is highly absorbent and dries quickly
Hypoallergenic and ant-bacterial towel does not cause skin irritations or allergies
Unisex design
Cons
Fabric may shed after a few uses
4. Natemia Extra Soft Rayon from Bamboo Baby Hooded Towel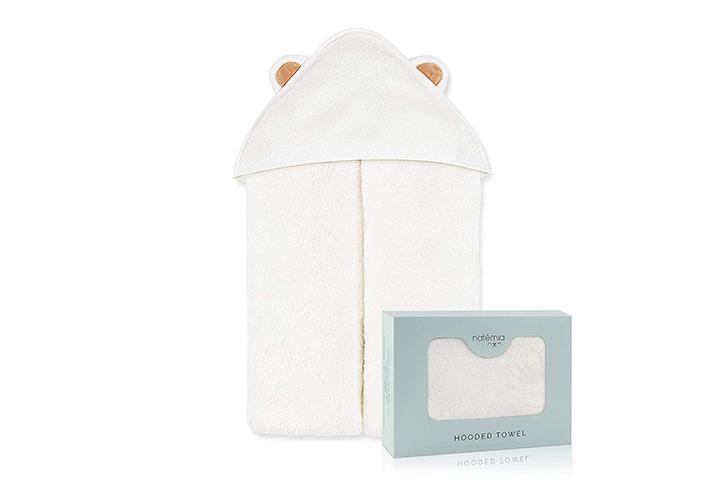 Every mommy should purchase at least one hooded towel for her little one. Made of high-quality rayon and at 500 GSM, this towel is warm like a blanket. This fluffy towel can keep your child comfortable after a bath or pool time.
Pros
Easy to wash and odor-free
Material is extra-soft and highly absorbent
Suitable for sensitive skin
Durable material can withstand regular washes
Cons
5. Simple Joys Towel and Washcloth Set by Carter's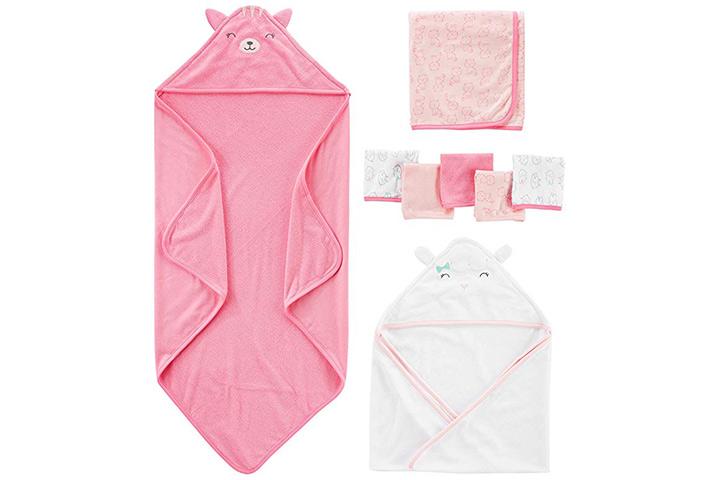 Parents love this pretty pink towel for its cute design and plush fabric. Made of cotton and polyester, this eight-piece towel set comes with washcloths and towels in shades of pink.
Pros
Material is gentle on the baby's skin and highly absorbent
Two of the towels in the set are hooded
Reasonably priced set
Washable in a machine
Cons
Towel material is a tad thinner than you would expect
6. Eccomum Baby Hooded Towel Organic Bamboo Baby Bath Towels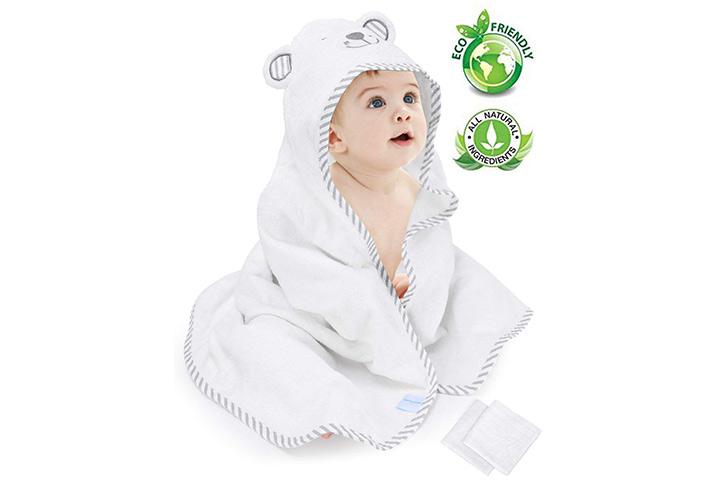 This bamboo bath towel is made of natural organic fabric and is free of chemicals. It is soft on the baby's skin and protects your baby from catching a cold after a bath.
Pros
Hooded bear embroidery is super cute.
Thick material is absorbent and fast-drying
Soft and durable design ensures the baby's comfort
Anti-bacterial and hypoallergenic
Washable in a machine
Cons
Material is likely to unravel after a few washes
7. Hudson Baby Unisex Baby Animal Face Hooded Towel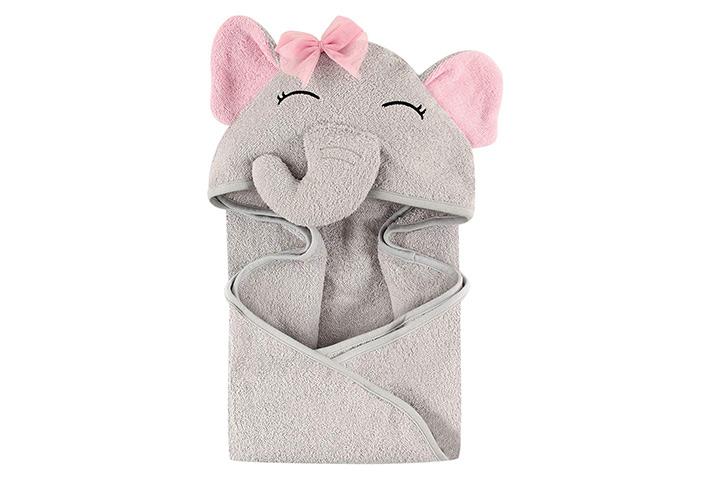 Who doesn't find baby elephants cute? This hooded towel comes with a cute elephant on the hood and a pink ribbon on its head. Made of 100% terry cotton, this towel is soft and highly absorbent.
Pros
Plush material is gentle on the baby's skin
Size is perfect for infants
Durable enough for everyday use
Washable in a machine
Cons
Material can become coarse after a few uses
8. Spasilk Cotton Hooded Terry Bathrobe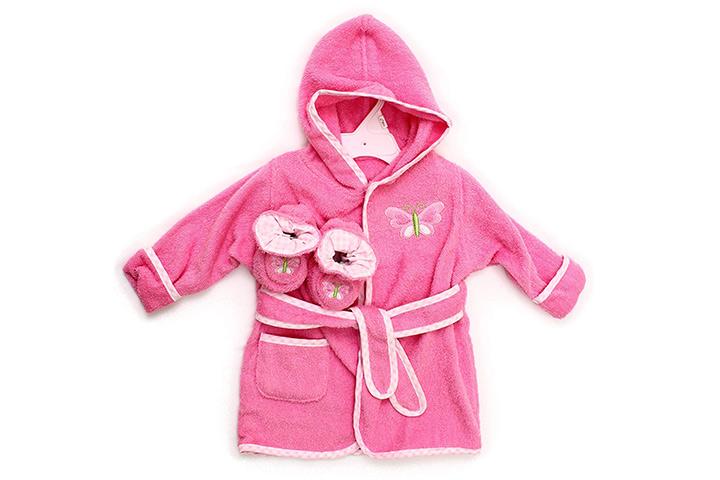 This hooded robe comes with a pair of plush booties to keep your baby's feet warm as they get dressed. This robe can be used as a wrap when by the pool or at the beach.
Pros
Made of terry cloth, it is gentle on the baby's skin
Comes with an applique, patch pocket, self-tie belt, and cuffed sleeves
Safe to wash and dry in a machine
Available in different colors and patterns
Ideal for gifting a soon-to-be mommy
Cons
Fabric is thin and may not be too soft
Does not stretch
9. Burt's Bees Baby – Hooded Towels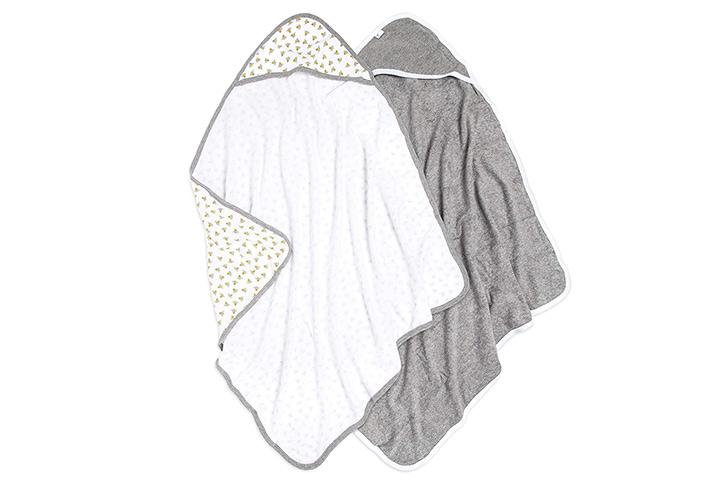 Try this simple yet elegant hooded towel for your baby. The set features two towels made of organic cotton. The absorbent fiber dries the baby quickly and leaves them feeling fresh.
Pros
Soft material keeps the baby warm and cozy
Perfectly sized for infants
Durable material easily lasts multiple washes
Organic cotton certified by Global Organic Textile Standard (GOTS)
Cons
Fabric may be thinner than expected
10. Luvable Friends Plush Bath Robe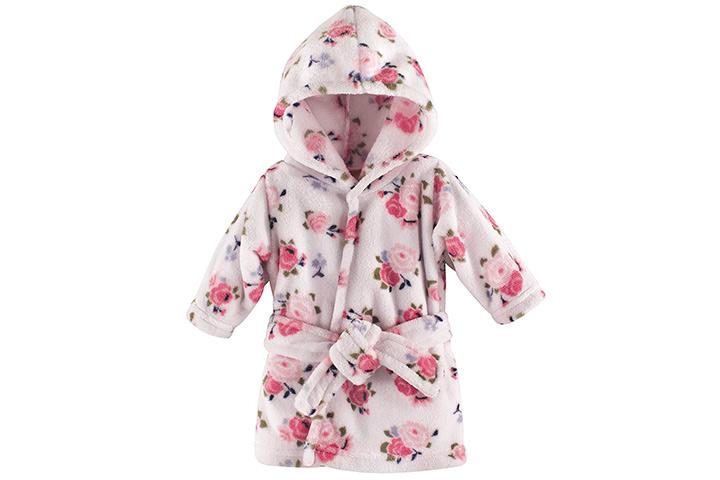 Looking for a cute printed bathrobe for your baby? Look no further as this soft and colorful bathrobe comes in cute prints. It is made of 100% polyester and is super soft to touch. It can keep your baby warm after a fun bathing session or poolside outing.
Pros
Soft and cozy fabric keeps the baby warm
Design on the hood adds cuteness to the baby
Comes with a plush waist tie
Available in a variety of prints and designs
Washable in a machine
Cons
Color and shade of robe may differ from that shown in the picture
11. Lucear Muslin Baby Bath Towels with Hood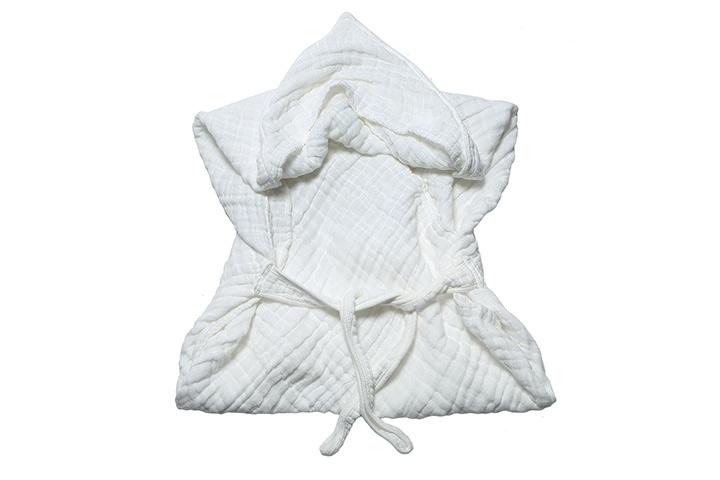 This muslin cotton baby bath towel is extremely soft. It comes with high-quality stitching, so it lasts long even after several washes. It comes with a special honeycomb embossing that makes it super absorbent.
Pros
Features a hood and waistband
Easy to wash and dry
Thick fabric can double up as a blanket for the baby
Cons
Size may not impress all buyers
12. Baby Aspen "Let the Fin Begin" Shark Robe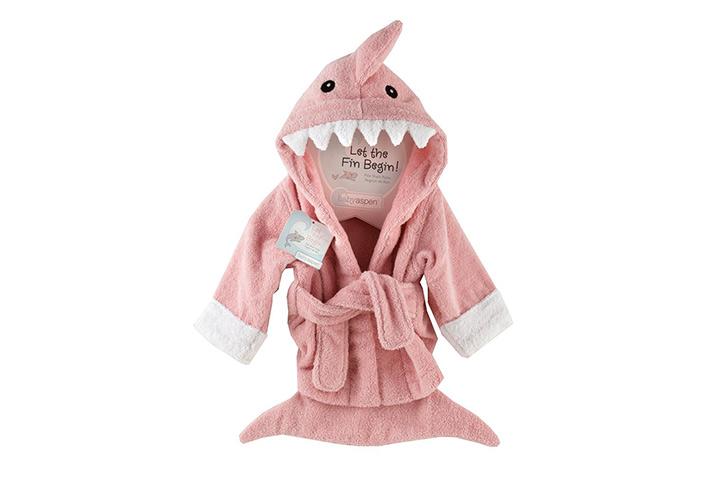 Made of cotton, this baby bathrobe comes in a shark-themed design. Its hood has cute shark teeth that cover your baby's head. The robe can be fastened with a waist tie.
Pros
Cotton fabric wicks moisture and keeps the baby dry
Soft hood helps dry the baby's head
Plush material keeps the baby toasty
Cons
The material may feel coarse after a few uses
The fabric seems to shrink after washing
13. Taiycyxgan Coral Fleece Bathrobe
Your baby will love spending hours in this  bathrobe.  It is made from 100% polyester and comes with a button on the collar to keep the robe from slipping off. Its 3D cartoon design makes it an attractive option.
Pros
Suitable for daily use
Fabric keeps your baby warm and comfortable
Available in different sizes and designs
Cons
Fabric may be thinner than expected
How To Choose Baby Robes And Towels
To buy the best baby towels or robes for your little one, consider the following features:
Material: Towels and robes are mostly made of cotton, polyester, or bamboo. If your baby is suffering from skin troubles, you can opt for an organic bamboo towel that will be easy on your child's skin. When damp, your child's skin becomes a lot more sensitive, so it is always better to buy a soft absorbent towel that will quickly absorb water and keep your child dry and fresh.
Durability: Since towels and robes are often wet, they tend to pill and fray. These fabrics can even turn coarse after frequent washing. You can look for close-knitted towels that remain soft for a long time and do not pill quickly.
Design: If you have gone through this list, you must have noticed how towels and robes are available in a variety of designs and patterns. Choose the one that pleases you the most.
Frequently Asked Questions
1. Which types of baby bathrobes are most absorbent?
The absorbency of a bathrobe depends on the fabric it is made of. Cotton terry is one of the most absorbent materials for a bathrobe. It is thick, warm, and comfortable. It is pricey but totally worth the money.
2. Are silk bathrobes washable?
Yes, you can wash silk bathrobes but only with hand. Silk is a relatively delicate material that can be ruined if washed in a machine. It is best washed in lukewarm water with a mild detergent, and, of course, with hand.
3. What is the best material for robes?
Bathrobes are available in different kinds of soft and cozy materials. The most common robes are made of cotton terry, cotton waffle, cashmere, luxury microfiber, and so on. The best option amongst these is very subjective because every person has their own preference for a bathrobe. Someone may love a silk robe, while another person may prefer a robe made of dual-layer microfiber. The answer varies from person to person.
These are some of our most-preferred choices for baby robes and towels. We hope it helps you make a choice. Which of the above-listed baby robes and towels did you like best? Let us know in the comments section below.
Disclaimer: MomJunction may earn a commission when products are purchased through affiliate links given in the article. However, this partnership does not influence the editorial content featuring in our list.
Was this information helpful?
Comments are moderated by MomJunction editorial team to remove any personal, abusive, promotional, provocative or irrelevant observations. We may also remove the hyperlinks within comments.